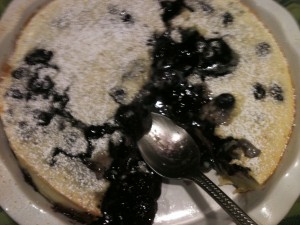 I have heard many descriptions for this dish, from pancake to pudding. My goodness, just say crepe! That is the taste and texture. It is a crepe dish. Instead of making a bunch of crepes, you make a crepe casserole. And thinking of this makes me also realize it would be great with a mushroom cheese filling served along a nice salad. I guess any filling for a crepe could be used. How exciting! A savory clafoutis. I have to put that on my to do list!
For things like clafouti you can't go wrong with Julia Child's recipe. While this serves 6-8 people for dessert, it also makes a wickedly indulgent breakfast for 4!
Julia Child's Clafoutis  (kla-foo-TEE)
serves 6-8
1 1/4 cups milk
1/3 cup sugar
3 eggs
1 Tablespoon vanilla
1/8 teaspoon salt
1/2 cup flour
3 cups cherries, pitted
1/3 cup sugar
powdered sugar
In a bowl mix the milk, sugar, eggs, vanilla, salt and flour with your stick blender. Pour a 1/4 inch layer of the batter in a buttered 7 or 8 cup lightly buttered fireproof baking dish. Place in the oven until a film of batter sets in the pan. Remove from the heat and spread the cherries over the batter. Sprinkle on the 1/3 cup of sugar. Pour on the rest of the batter. Bake at 350 degrees for about for about 45 minutes to an hour. The clafouti is done when puffed and brown and and a knife plunged in the center comes out clean. Sprinkle with powdered sugar, serve warm.
Directions
Preheat oven to 375 degrees. Butter a 9-inch baking dish, 1 1/4 inches deep. Coat with granulated sugar; tap out excess. Whisk eggs, yolk, and flour in a medium bowl; whisk in creme fraiche, milk, granulated sugar, vanilla, and salt.
Arrange cherries in prepared dish. Strain batter over cherries. Bake until browned around edges and set in the center, 30 to 35 minutes. Let cool slightly. Dust with confectioners' sugar, and serve warm with creme fraiche.
Clafouti is best warm, so bake it just before you serve dinner. Scoop it into bowls, with a spoonful of creme fraiche or bake it up and have it for breakfast in the morning!  
Clementines, Blackberries, Raspberries, Cherries all are great in this crepe like dish with fruit!