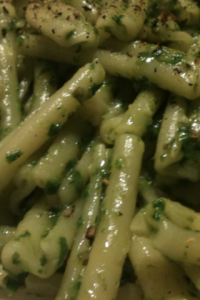 My mom didn't have a food processor when I was kid, so all this would have been hand chopped.  I loved green spaghetti night.  I didn't have the original recipe, so I kept trying to find a recipe that came close.  This is the grown up version, my mom would not have used hot pepper flakes, feeding so many kids, but it does make it good.  Speaking to many different cooks, they assumed that green spaghetti would be pesto.  Maybe, but my mom had limited ingredients.  She would use basil and parsley fresh from the garden, and she  may have walnuts and almonds, but certainly no pine nuts.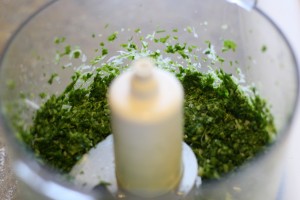 Ingredients:
5 cloves garlic
1 bunch green onions
3 cups packed fresh basil, stems removed
3 cups packed fresh italian parsley or spinach or swiss chard, stems removed
1 lemon; remove zest and squeeze juice
1 (10oz) jar stuffed olives, drained
1 (3 oz) jar capers, drained
1 cup freshly grated Parmesan cheese
1/4 – 1/2 teaspoon hot pepper flakes
good quality olive oil
Preparation:
In food processor, with the motor running, drop in garlic, green onions, and lemon zest. Process until finely minced. Add olives, capers, & hot pepper flakes and process until finely minced. Add as much parsley and basil as will fit and process with pulse turns. Repeat until all ingredients are processed. With motor running, add lemon juice and Parmesan cheese. Slowly add enough olive oil to make a "pesto" consistency. Separate into 1 cup containers. Each cup coats about a pound pasta.  I like it on fettuccini or spaghetti. Mix sauce with hot pasta and toss well. Garnish with cherry tomato quarters and fresh basil leaf slivers. Sauce freezes well.
I made this green pasta into a pasta salad, served cold and added chopped olives and tomatoes. Add a bite Lite Champagne Vinegarette or Dill Ranch so it is moist. Everyone loves it!