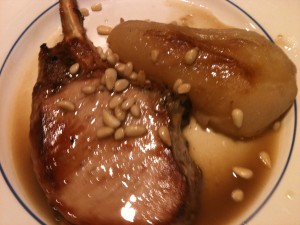 Pan fry pork chops and to brown and finish baking in the oven for 10 minutes at 350 degrees.
Mix Cardamon Pear Butter with Pork Gravy and serve with mashed potatoes.
So, so good.
If you are out of Cardamom Pear Butter,
Heat oven to 350 degrees
3 pears, cut in half, peel and core
1 T olive oil (you could use walnut oil)
1 T butter
1 cup chardonnay
1 tsp cardamom
1 tsp salt
Fry the pears, round side down until nicely browned, turn and add wine, cardamom and salt.
Cover, put in oven for 20 minutes until fork tender.
While your pears are poaching, fry your pork chops until brown on 4 minutes on both sides, then place them in the oven to finish cooking.
Serve pear and chop on a plate. Drizzle the plate with the pear juice. Garnish with a sprinkle of toasted pine nuts.