From Bon Appetit, February 2010
Makes 15 biscuits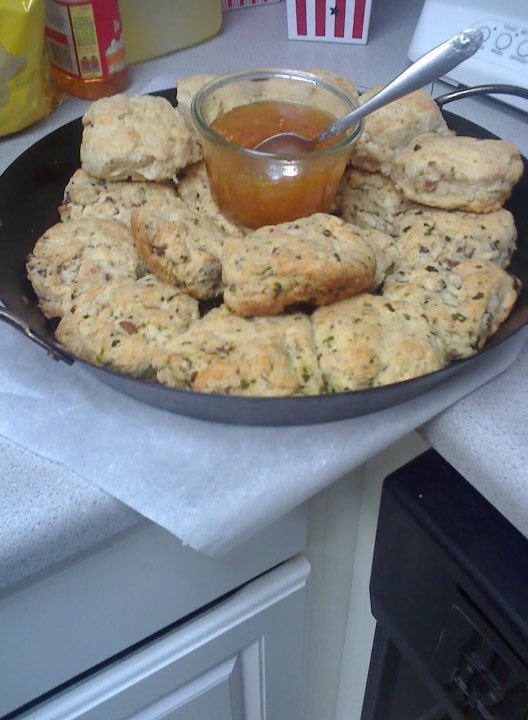 In a food processor, combine the flour, baking soda, baking powder and salt. Add the butter cubes and pulse until a course meal forms, about 30 seconds. Transfer mixture to a large bowl and add cheddar, bacon, and chives. Gradually add the buttermilk, stirring to moisten evenly (batter will feel sticky).
Drop generous scoopfuls (I used an ice cream scoop) of batter onto the prepared baking sheet, leaving a few inches of space in between.
Bake biscuits until golden, about 18 minutes. Brush biscuits lightly with melted butter and let cool 10 minutes.
Options:
You can use any favourite cheese. Gorgonzola and other blue cheeses are wonderful with the addition of black pepper. Cheddar cheese is good with chives or green onions. Sometimes I add dry mustard and cayenne pepper. Or bacon or ham.
Or 1 Tablespoon Chipolte Powder, or Jalapeno peppers diced.
6 thick-cut bacon slices
3 3/4 cups bread flour
1 1/2 tablespoon baking powder
1 1/2 teaspoon baking soda
1 teaspoon kosher salt
1/2 cup chilled unsalted butter or Cisco, cut into cubes
2 1/2 cups (packed) grated sharp cheddar cheese
1/3 cup chopped fresh chives
1 3/4 cups chilled buttermilk or cream
Preheat oven to 425 degrees F and line a baking sheet with parchment paper. Cook bacon in a large skillet over medium heat until crisp and brown. Transfer bacon to paper towels to drain and then crumble.