Sausage Mushroom Quiche
6 eggs
1 tsp Baking Powder
1 cup cream or half & half
1/4 cup of chives or leaks
1/4 cup of cottage cheese
1/4 cup grated parmesan or swiss cheese (whatever you have)
1/4 cup browned sausage or crumbled bacon
4 large mushrooms sliced
2 tomatoes sliced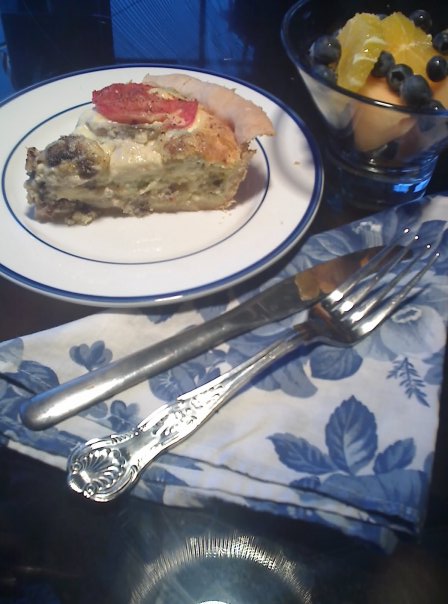 Make your crust and bake for 10 minutes at 400 degrees.
Then add your sausage and mushrooms and cheese and chives
Beat the eggs with the cream and baking powder and cottage cheese
Pour over your other ingredients into the pie pan.
Top with sliced tomated.
sprinkle top with nutmeg, salt & pepper.
Return to oven for 40 minutes at 350 degrees.
You can vary this quiche with what ever vegetables or cheese you have on hand.