I have tried about 12 batches of macaroons and this is by far my favorite. It is not too sweet, it is light and airy, it tastes of coconut and not just sugar. Give it a dip in semi-sweet chocolate, and it is over the moon. I am so proud.
While most recipes use Sweetened Condensed Milk, I don't like the taste of it. So, use Sweetened cream of coconut, often used to make pina coladas and other cocktails, can usually be found in most supermarkets by the booze, canned and under the brand name Coco Lopez. Finding the sweetened coconut is no problem in the baking aisle, but for the unsweetened coconut, you may have to check the Asian foods aisle or a natural foods store or you can buy it online on Amazon. You want the finely shredded, baker's coconut. No excused. Find the right coconut. It helps with the texture and the lightness of the macaroon.
Dipped in Chocolate. I'm in heaven.
Makes 2 dozen
1 cup cream of coconut
2 tablespoons light corn syrup or Agave syrup
4 large egg whites
2 teaspoons pure vanilla extract or almond
1/2 teaspoon salt
3 cups unsweetened shredded coconut
3 cups sweetened shredded or flaked coconut
1/4 cup all purpose flour
10 ounces best-quality semisweet chocolate chips (I like Guittard semisweet)
Preheat the oven to 375 degrees. Line two baking sheets with parchment paper.
In a large bowl, whisk together the cream of coconut, corn syrup or Agave Syrup, egg whites, vanilla and salt until well-blended. In another large bowl, using your fingertips, toss together the flour and shredded coconuts. Pour the wet ingredients into the dry and mix with a rubber spatula until evenly moistened.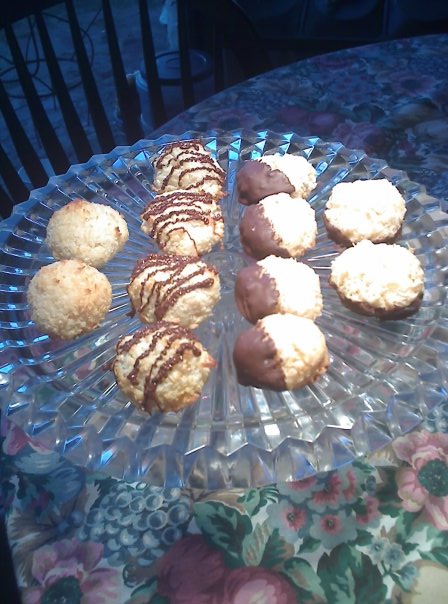 Drop the mixture by heaping tablespoons onto the prepared baking sheets. Form the cookies into loose haystacks with your fingertips (moistening your fingers with water will prevent sticking). Bake until the cookies are softly set and golden in spots on top and bottoms are deeply browned (everyone loves that crunch), about 15-17 minutes. Cool on the cookie sheets for 15 minutes. Melt the Guittard chocolate on high power in 30 second intervals, stopping to stir after each interval until melted. Dip your cool macaroons into the chocolate and then place them back on the parchment to set up. Yummy good.