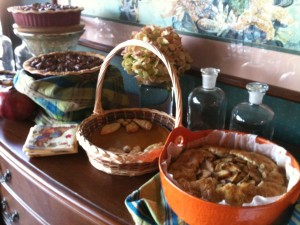 I love pie.  Spice apple pie. Pie al mode.  Pie with cinnamon and spice that leaves a trail throughout the house.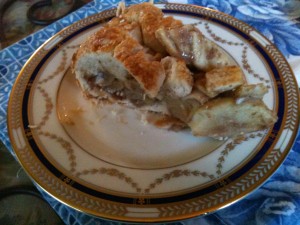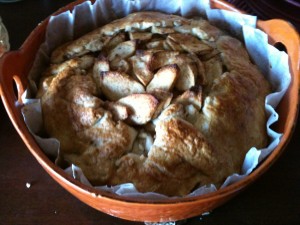 During thanksgiving, I am usually out of pie pans, and so this artesian pie you can make with out a pan. I used my large casserole dish, but you can use a cookie sheet.  This baby has 6 large peeled and sliced Green apples, 1/8 cup of lemon juice, 1/4 cup of flour, 3/4 cup white sugar, 1/4 cup brown sugar, 2 tsp cinnamon, 2 tsp garam masala.  Mix all your spices and flour and add to the green apples with lemon juice.
Double the pie crust recipe on this site and roll out the dough.  I like to use a large cutting board and roll the dough onto the parchment paper so it easy to lift later. 
Once your dough is rolled into one large round, place the pie filling in a mound in the center. Grab the edges of your parchment and place into the casserole dish.  (The dish should be sprayed with pam for easy removal later.)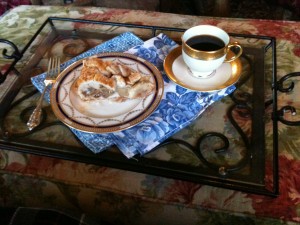 Dab butter on top of the pie, brush with egg wash and she is oven ready.  Bake at 375 for 60 to 75 minutes or until golden brown.