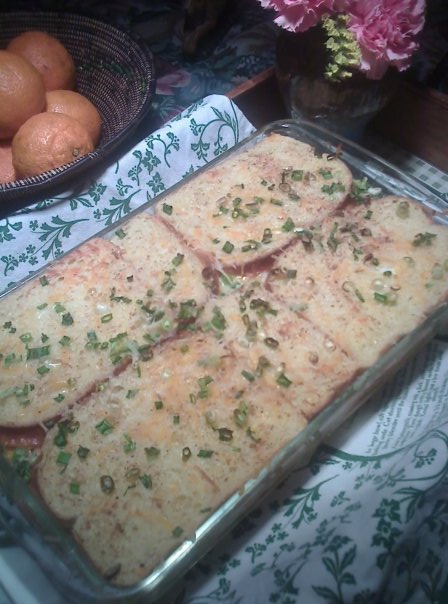 After watching "It's complicated", I had to know how to make this! Serve with Green Goddess Salad or Ceasar for a lunch and end with fresh berry dessert or for brunch fresh fruit.
1 cup whole milk or cream
3 eggs
Pinch of ground nutmeg
8 slices firm white sandwich bread (sheepherders or brioche)
4 ounces very thinly sliced Black Forest ham
1/2 cup grated Gruyère cheese
2 teaspoons chopped fresh chives
Preparation
Wisk the cream and eggs together. Soak bread (crust on or off, you decide)and line bottom of the 8 x 8 inch baking pan.
(add a piece of parchment on the bottom to prevent sticking)
Layer cheese and chives
sprinkle ground nutmeg lightly
Layer ham
Layer cheese and chives
top layer of soaked bread.
Pour remainder of cream over top.
Bake a 375 for 30-40 minutes in a water bath.
Great for brunch!
Cut in squares and diagonally for a good look.
Serve with Salad. Easy to make and take with you to someone's house.
Let them know, you will bring breakfast!
Add a poached egg and Bechamel sauce and you have Croque Madam.