A small place out on silver strand beach sold fish tacos and I had them about 25 years ago.  They weren't very fashionable back then, but they have gotten to be more and more so.  Most places you get your choice grilled or breaded. 
Grilled is definately healthier, so here you go.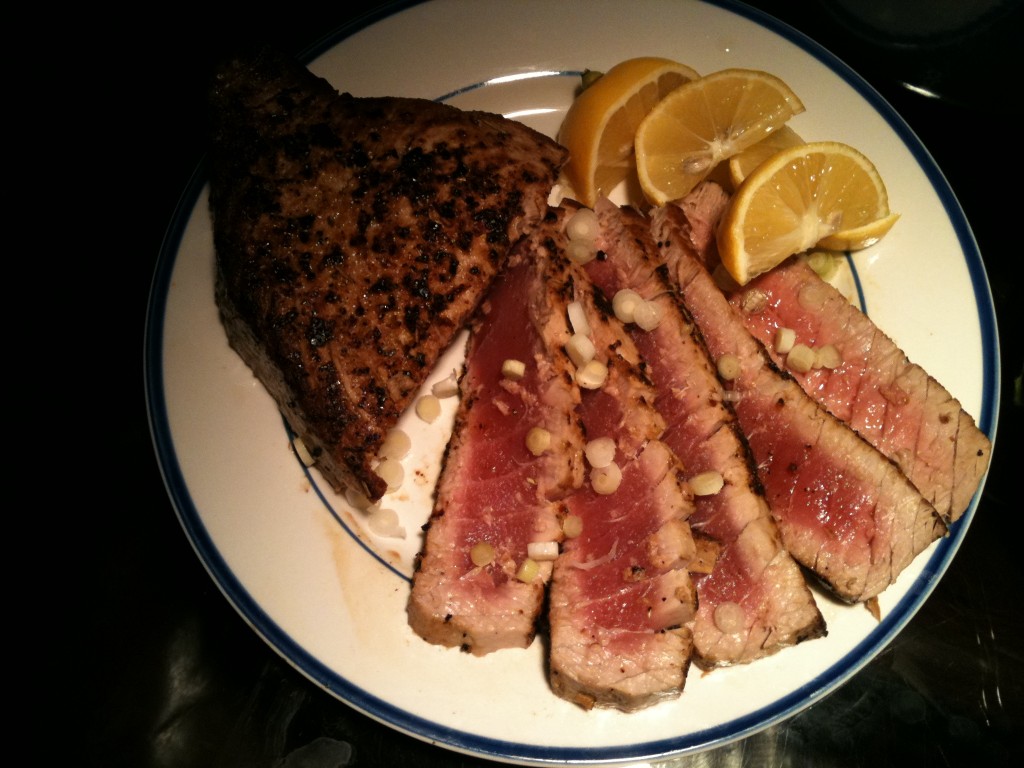 I like white fish, like tuna but  Sea Bass and Talipia Halibut work well also.  Tuna and Thresher Shark taste like steak with a lot less fat. 
Typically I make my "Spanked Tuna", slice it, and then layout a display of sides for the buffet.
Or fire up the grill.  
Marinade:
2 cups chopped white onion, divided
3/4 cup chopped fresh cilantro, divided
1/4 cup olive oil
3Â tablespoons fresh lime juice
3 tablespoons fresh orange juice
2 garlic cloves, minced
1 teaspoon dried oregano (preferably Mexican)
1 pound white fish: tuna, tilapia, striped bass, or sturgeon fillet, sea bass, swordfish, thresher shark
Coarse kosher salt
Corn tortillas
2 avocados, peeled, pitted, sliced
1/2 small head of cabbage, cored, thinly sliced
Lime wedges
Preparation
Marinade: Stir 1 cup onion, 1/4 cup cilantro, oil, 3 tablespoons lime juice, orange juice, garlic, and oregano in medium bowl. Sprinkle fish with coarse salt and pepper. Spread half of onion mixture over bottom of 11x7x2-inch glass baking dish. Arrange fish atop onion mixture. Spoon remaining onion mixture over fish. Cover and chill 30 minutes. Turn fish; cover and chill 30 minutes longer.
Lime Mayonnaise:
1 cup mayonnaise
1 tablespoon milk
2 tablespoons lime juice
Whisk mayonnaise, milk, and lime juice in small bowl.
Brush grill grate with oil; prepare barbecue (medium-high heat). Grill fish with some marinade still clinging until just opaque in center, 3 to 5 minutes per side. Grill tortillas until slightly charred, about 10 seconds per side.
Coarsely chop fish; place on platter. Serve with lime mayonnaise, tortillas, remaining 1 cup chopped onion, remaining 1/2 cup cilantro, avocados, cabbage, Salsa Verde, and lime wedges.
Serve with fried corn or flour tortillas or fire grilled corn or flour tortillas.