I used to make soggy rice or  sometimes it would be al dente – you know, tough in the center.
Today, I am proud of my rice and do not hesitate to whip up a batch for an office luncheon. 
Use a heavy pot that will go from stovetop to oven. I like a small braising pot with a lid.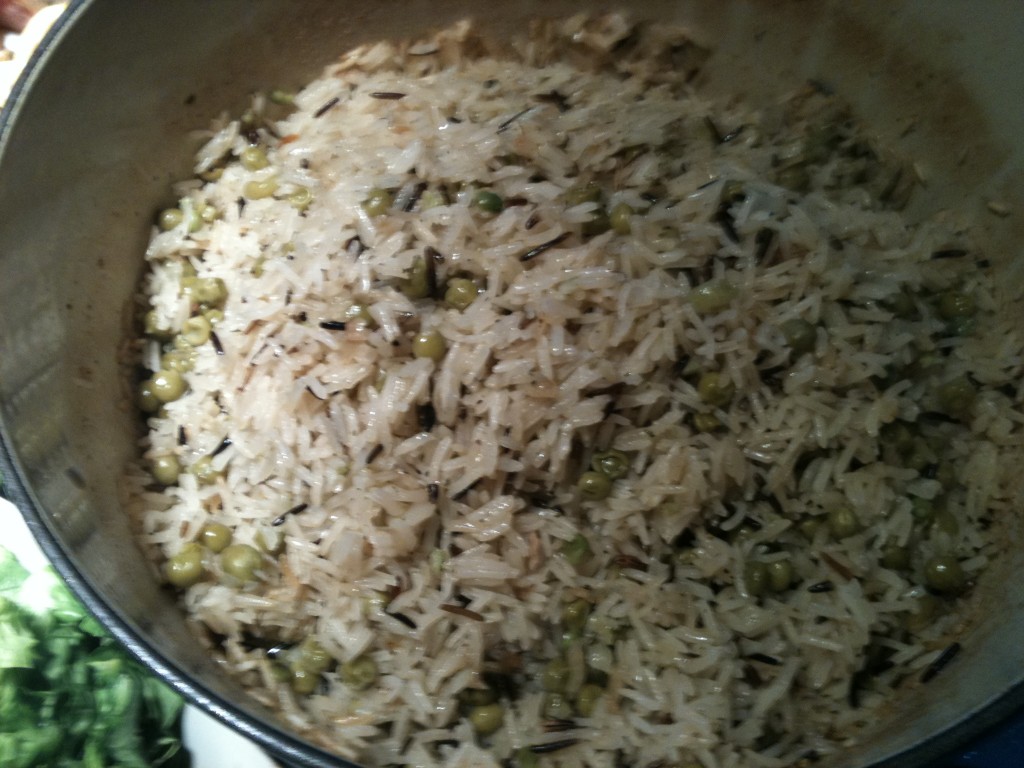 Olive Oil  2 Tablespoons
2 Cups of White Rice  (You can add 1/2 cup of wild rice if you like)
1/2 Cup of Veggies: Peas, Carrots, Onions, Salsa or Pico De Gallo,  or mushrooms
1 tsp garlic powder and parsley
1/4 cup of lime or lemon juice (optional)
2 Cups Water or Chicken Stock (Makes your rice more flavorful)
Add a little olive oil to the bottom of the pan, and in a proportion of 1 part rice, use 1 part water or boullion.
Add 1 cup of Jasmine white rice to the olive oil.  Pop the rice on the stovetop stirring to keep from burning.
Once about 1/4 of it has popped, then add your liquid ingredients of equal proportion.
You can also add cubed chopped onions, black pepper is great in this rice and salt.
If you are going to add veggies: peas, carrots, onions, or tomato salsa for spanish rice – do so now unless they are canned veggies and then you can add them 5 minutes before taking the rice from the oven.  Bring the ingredients to a boil and then place in the oven at 350 degrees for 20 minutes.
Perfect rice everytime.
Variations:
Wild Rice:Â  1 1/2 cups white rice, 1/2 cup wild rice, chicken stock, onions
Mushroom Wild Rice with Carmelized Onions:Â  Cook white and wild rice as above in vegetable or chicken stock.
Carmelize onions with brown sugar, garlic powder, and 2 T butter.  Puree onion mixture.  Saute mushrooms in 2 T butter, add 1 1/2 cups of heavy cream and stir into cooked wild rice mixture.  Bake at 350 degrees for 20 minutes.
Yellow Rice:  Add diced carrots, peas, white onion, and 1 tsp tumeric. By the way, tumeric is very good for you and I hear it keeps you from getting alzheimers.  Worth a try.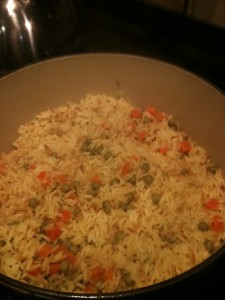 White Spanish rice: Onions, peas and carrots