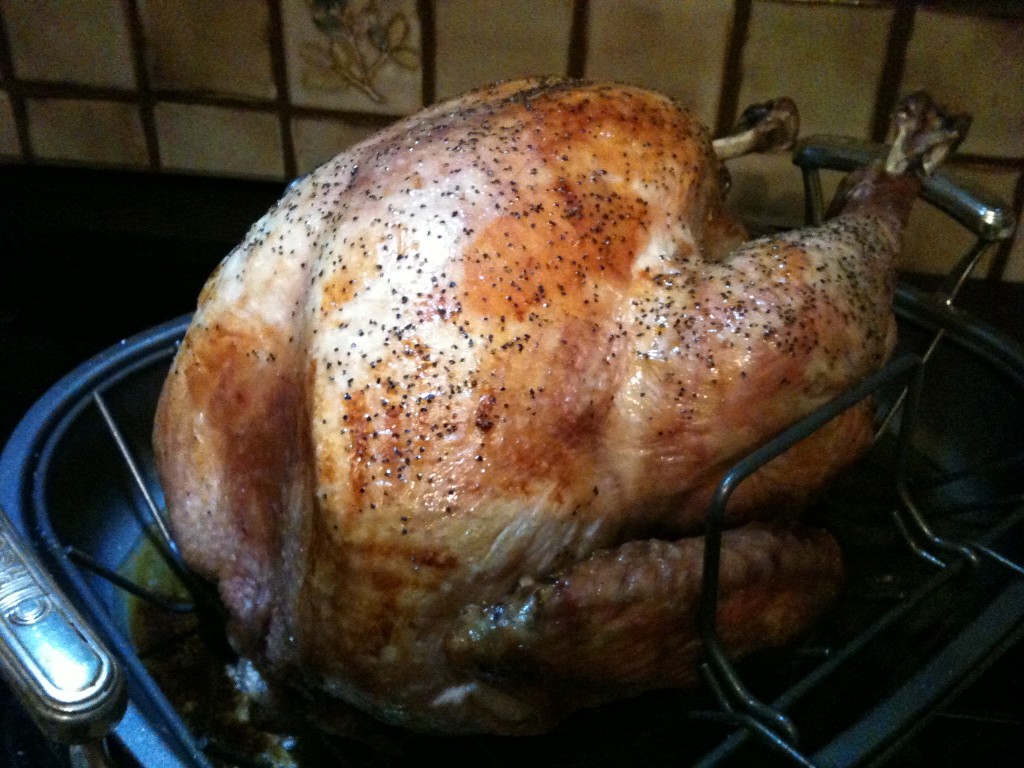 It is nearing Thanksgiving and once again I overhear people nervously confess they have never cooked a turkey.  Their concerns?  It will be dry, or worse yet not cooked. Stop over thinking it.  
I love turkey sandwiches and while at Costco yesterday, I was going to buy some sliced turkey, but wow, for the price I could purchase a whole turkey – so I did. 
I've been roasting turkey since I was a teenager. My parents divorced and to help my Dad, I was in the kitchen.  I loved those days of making the dressing while the turkey was in the oven.   Cook with your kids, they will remember it forever. I have wonderful memories of meal times, large table, big platters of food, the unbelievable smells and of course many smiling faces chatting around the table.
Turn the oven to 350 degrees. Wash the bird, I always figure if I am going to cook a turkey, I like the largest turkey that will fit in the oven.  One year I purchased a 26 going on 27 pounds. Well, that was a bit big.  I actually had a hard time fitting it in my pan, my oven, and it was very difficult to hoist into and out of the oven.  Stick with what you can lift, but don't buy anything less than 12 pounds.
You may think that is a lot of turkey, but with sandwiches and the freezer being nearby, just cook the whole turkey.
This fresh young turkey – that's what it said on the package – is a little over 19 pounds.  I brought it home, washed the outside and inside out removing those extra parts.  You know there is a big resurgance in using the internal organs, but I just toss them.  I keep the neck and carcass and freeze in a ziplock until I am ready to make soup. 
For you, my friend Denise, take that plastic thing out of the turkey.  And, there can be extra stuff in the neck as well as the body cavity. You need to do a full body search removing everything, then was the turkey inside and out, and then you are  ready for the next step.
Pat the turkey dry and set it on you roasting pan.   At the moment it should look very, very white.  Soon to be gorgeous and irresistable.  Notice: I didn't brine it or go thru any other work. I don't think turkey needs to be brined and I am not going to baste it either. The oven is my friend and it should be yours too! 
Using olive oil I rub the turkey all over and sprinkle salt and pepper liberally over the turkey.
At this point, you can add rosemary or thyme.  But, it is not necessary. 
Using aluminum foil, cover the entire bird. Crinkle it up, sealing the tent around the roasting pan.  If your foil is smaller then the pan, put two pieces of foil together and seal it up.   Put it into your 350 degree oven.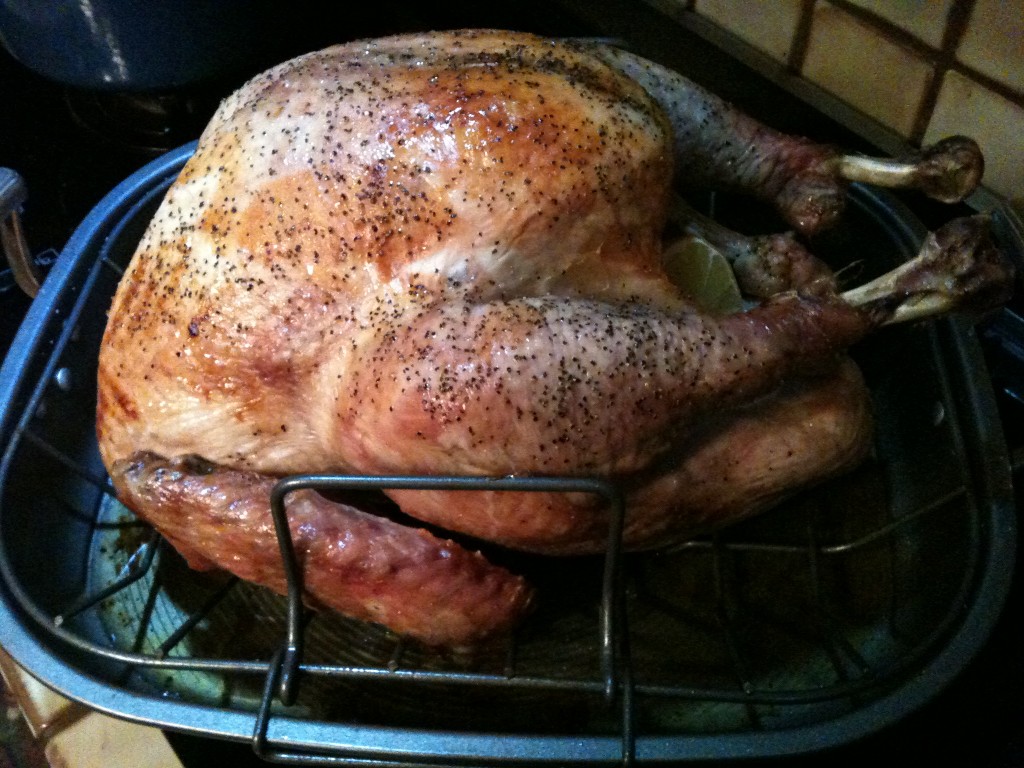 My 19 pounder took about 3.5 hours to cook.  One hour before the turkey is scheduled to be done, take off the tent and place it back into the oven for the remaining hour.  Your turkey will brown nicely over the next hour.
Remove from the oven and allow it to rest for 10 minutes.  (I use my foil again to cover the turkey loosely.)
Hot Turkey Croissant Sandwich anyone?