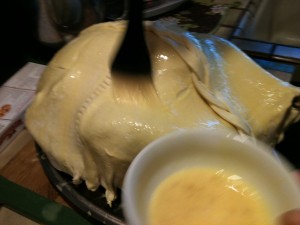 Puff Pastry 6 sheets (3 frozen packs)
Egg wash
Whole Turkey
Salt & Pepper
Rosemary
Whole Garlic
2 lemons cut into wedges
Oven proof tray just large enough to hold the bird. I prefer an oval stainless serving platter.
Wash turkey.
Season with herbs, salt and pepper.  Place a handful of garlic and the lemon slices
into the cavity of the bird.
Bake according to package directions for unstuffed bird.
45 minutes before bird is done, prepare your puff pastry.
Use 4 sheets and seam together using egg wash and a fork.  I hide these seams using braids I make from the remaining sheets of puff pastry. 
Make braids, leaves, or bows.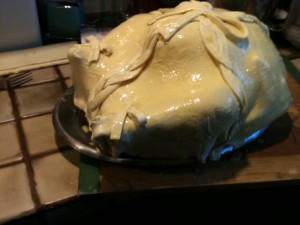 As soon as your puff pastry is ready, remove bird from oven. 
Remove the bird from the original roasting pan and place on a smaller oven proof serving tray. I use an oval stainless tray.  This gives the puff pastry a nice shape.
Seal the puff pastry around the oven proof serving tray.
Brush the egg wash all over the pastry so it will brown evenly.  Quickly get the bird back into the oven because the heat from the bird will start to cook the pastry and make it slide off the bird if you are not fast.
When placing the puff pastry covered bird back into the oven, if you are using the bottom rack, place a cookie sheet down first to keep the puff pastry from getting too close to the flame or heat element, you could burn it.  
When the puff pastry is nicely brown, the turkey is done, appoximately 45-60 minutes.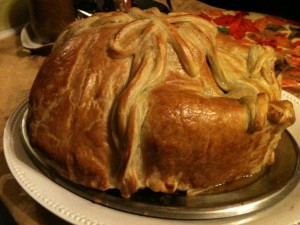 Remove from oven and place tray onto a larger serving tray and garnish with roast garlic and vegetables or parsley or oranges and rosemary sprigs.
Ask one of your guests to carve the turkey for you.