From the Christmas dinner  ribeye roast, I cut the ribs from the roast, removed the eye of the roast and what was left looked like a flank steak once I remove the extra fat.  I saved this flank piece of meat for later – this is later – and tied the eye back onto the ribs and cooked the roast for Christmas Eve dinner. 
If you are planning on serving your stirfry with rice, start it now.  (See no fail rice.)
Slice the flank steak against the grain into small 1/8th inch slices.  My roast yielded about 5 cups. 
Oil for stirfrying.
4 cups of broccoli flowerettes
Mix the next five ingredients together for the sauce.
1 cup teriyaki
1/4 cup pepper jelly
1 tsp hot mustard1
1 tsp red pepper flakes
3 T finely chopped scallions
1 T corn starch and 1 cup water mix together
salt and pepper to taste.
Turn your wok on to heat while chopping the flank steak.  Prepare the teriyaki sauce
and the thickening agent in separate bowls. 
You are now ready.  Drizzle two Tablespoons of oil in the bottom of the wok and add 1/2 the beef.  Cook until almost done, remove from pan.  Cook other half of the beef until almost done and remove from pan.  Add broccoli to the wok and add a lid covering the broccoli, add about 1/4 cup of water. Allow to steam for 60 seconds, then stir.  When the broccoli is fork tender, add teriyaki mixture and finish cooking the broccoli, add the beef mixture allow to heat for 60 seconds.   If the teriyaki sauce needs thickening, add the corn starch, allow to cook until the broth is clear.  Salt and Pepper to taste.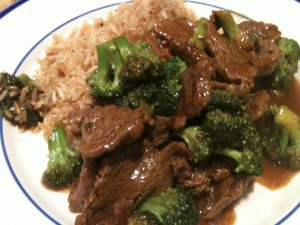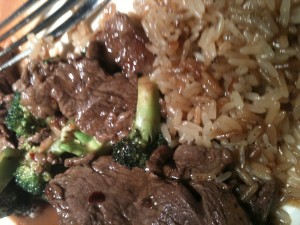 Remove from the heat.  Check your rice, when it is tender serve your meal.
You can not order this meal and have it delivered quicker than cooking it yourself.  Enjoy.