"I feel like Italian food tonight."  This is one of those quick dinners you can make in 30 minutes.  If you are going to serve with pasta or rice, get those started, then move on to pounding your chicken breasts.  Turn the oven on to preheat at 350.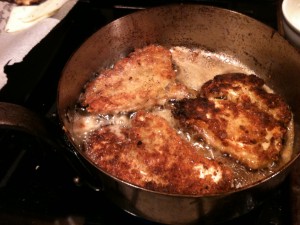 3 tablespoons olive oil
3 eggs beaten
Panko Bread Crumbs
Season with ground rosemary, salt, pepper
1 1/2 cups Tomato Sauce or marinara sauce.
1/2 cup shredded Mozzarella or pepper jack
16 teaspoons grated Parmesan.
Pound your skinless chicken breasts into filets. Use a mallet and a ziplock bag to minimize the mess. Pounding the chicken breast, you are trying to get a uniform thickness of about 3/8's of an inch so the chicken cooks evenly.
Dip the chicken in beaten egg, and then the seasoned panko breadcrumbs.
Brown the chicken filets in olive oil, about 3 minutes per side.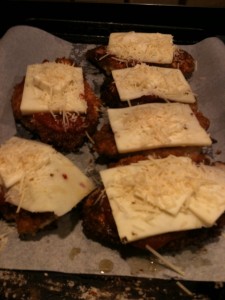 Place on a baking sheet, and spoon over the top a couple of tablespoons of marinara sauce.  Top with your cheeses and then bake the browned filets for about 10 minutes in the oven until they reach 160 degrees on your instant read thermometer.