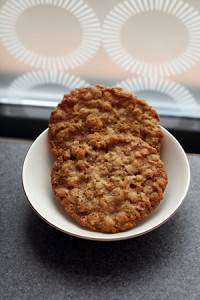 My children always remembered Jacque Nickerson, Grandma and differentiated her from everyone else in their lives because of these cookies.  These cookies have immortalized Jacque.  They are flat, crispy and nutty. Perfect flavor and wonderful with a cup of coffee or tea.
As Jacque needed a bit of help as she aged, she would still bake cookies and hide them in ziplock bags in her closet so the help would not touch them, they were for her grandchildren.  
1 Cup Shortening
1 Cup White Sugar
1/2 Cup Brown Sugar
1 egg
1 tsp Vanilla
1 1/2 Cups Flour
1 tsp baking soda
1 tsp baking soda
1 tsp cinnamon
1 1/2 cups of quick rolled oats
3/4 cup finely chopped walnuts or pecans
Cream together shortening and sugars. Add egg and vanilla. Sift together all dry ingredients. Add to dry ingredients to creamed mixture.  Add oats and nuts. Chill 1 hour. Drop onto greased cookie sheet. Flatten with glass dipped in sugar. Bake in 350 degree oven for about 10 minutes.