Abby was up at 2:00 am this morning making the chile colorado that would become magnificent tamales. She was at my house at 4:00 and she was ready to show me how to make tamales. (Her beautiful Chili Colorado was made with three different chili – another cooking adventure for another day.)
I had my filling ideas, I had asked Abby to help me make some tamales, and specifically sweet tamales, I was craving them when I was having my detoxgreen smoothie. She said she would come to my house early. She ordered me to "Get corn husks and have them soaking in water overnight, and also be ready with fillings you want to try." She would bring everything else. Abby purchased 15 pounds of premade masa. She said it was not complete – we would need to "play with it".
And play with it we did. She melted 1 pound of lard and kneaded it into the masa, added about 3 Tablespoons of Baking Powder. She also revealed her secret incredient in making the masa lighter – she added rice she had steamed, about 3 cups. By the way, she measures nothing, it is all about this much, about that much. The masa was right when it resembled the feel of mashed potatoes. "Are you feeling the love?"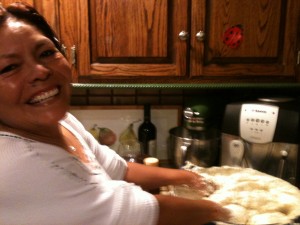 For sweet or dessert tamales, we added brown sugar, to about 5 pounds of the masa.
In another 5 pound batch, we added chopped spinach and about 1 Tablespoon of salt.
In another 5 pound batch, we just added salt.
The masas were ready!
My fillings were ready. I wanted to try.
Onion marmalade with pulled pork (Both recipes are on this site.)
Apricot Jam with Pepper Jack Cheese
1/2 cup Chardonnay, Diced apples (2), currants (1 cup), brown sugar (1/4 cup) cooked on the stovetop until the apples are fork tender. Then when cool, add 1/2 cup of chopped pecans. (This is my take on mincemeat.)
Chocolate chips with Pecans
Chocolate chips with Chipolte Adobe Sauce
Sort thru the corn husks and the real thick one, are great to use as the stings to tie.
The largest are great for standard meat tamales. The small and lighter weight husks are perfect for dessert tamales. The lighter thinner husks allow you to shape the tamale easier – better for beginners.
We spread a big spoonful of masa on the corn husk and then added the filling to the center, and then rolled the tamale.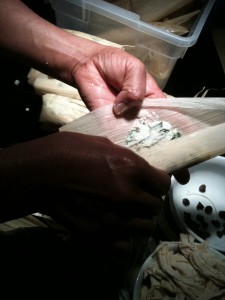 The top half, the small end, should not have masa, and is used to fold and close the tamale.
For the small dessert tamales we used ties made from the ugly husks, and tied them together like candy kisses, or you can also tie them on both ends, a bit of work if you ask me, so they look like a candy. I do like quick and easy.
Abby's hands were moving so fast, I had to have her slow down so I could take a quick snap shot.
For Abby this is an endeavor of love. Kneading the masa, she kept saying, "Do you feel the love?" Of course I feel the love. I get it. This is what women have been giving to their families for years. This is their labor of love.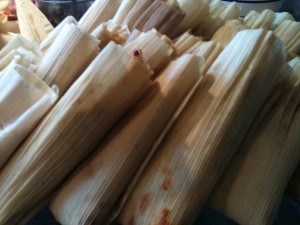 Once we had the tamales packaged up, we ensured the tamales were tilted and standing tops up and loaded them into a steamer for about 45 minutes. You can take a few out and let them cool to check for doneness. You will see that the masa has the perfect texture, and will pull away from the husk.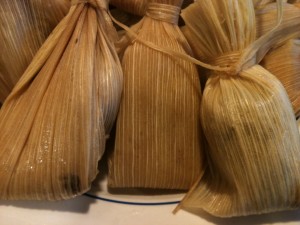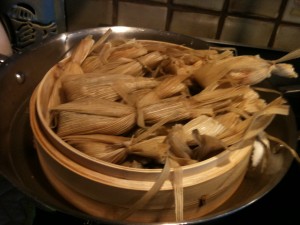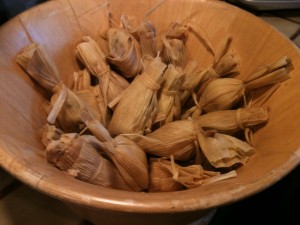 What's for dinner? You guessed it. Lots of love.
Try your favorite combinations of ingredients!
I haven't been able to try all the flavors, and already, I do know the diced apple mincemeat may be my favorite.
Can't wait to try the Chocolate Chipolte.
Go ahead, feel the love, play with your food!