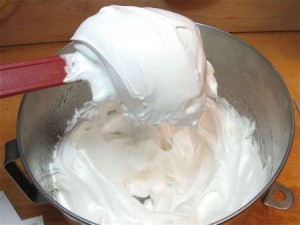 My husband is an auction crazed person.  Last week he came home with 3 boxes of cookbooks.  This is from JOYS OF JELLO. Probably from the later '50s early '60s judging by the pictures.  The paperback booklet isn't date but was published by General Foods.
2 egg whites
1 1/4 cup sugar
1 package of jello (3 oz – any flavor)
Dash of salt
1/2 cup water
2 tsp corn syrup
Combine all ingredients in double broiler and beat until mixed for about 1 minute.  Beat for 7 minutes over boiling water until stiff peaks form.  Remove from boiling water and use immediately. 
Makes about 7 cups of frosting enough to frost 3 eight inch layer cake, or 30 cupcakes.