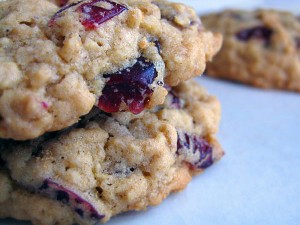 If you haven't figured it out by now, oatmeal cookies are may favorite.
1 1/2 c all-purpose flour
1 teaspoon baking soda
1/2 teaspoon salt
1/2 teaspoon ground cinnamon
2 1/2 cups old fashioned oats
8 ounces unsalted butter, slightly softened
1 cup packed light brown sugar
1/2 cup granulated sugar
2 large eggs, beaten lightly
1 tablespoon honey
2 teaspoons pure vanilla extract
6 ounces dried cranberries (1 1/3 c.)
5 ounces chopped pecans (about 1 c.)
1/2 cup white chocolate chips or chunks (optional)
Directions
1 Oven to 350 degrees F.
2 (if baking right away).
3 Line sheet pans with parchment.
4 Mix the dry ingredients together, then stir in the oats.
5 Set aside.
6 Beat the butter and both sugars together until light and fluffy.
7 Add the eggs, then scrape down the bowl; add the honey and vanilla and beat until blended.
8 Add the flour mixture in two additions, beating each until well combined.
9 Stir in the cranberries and pecans.
10 At this point, you can either bake, or freeze.
11 To freeze, just scrape the dough onto plastic wrap, roll into a log, wrap tightly, and freeze until ready to bake.
12 Then just take them out of the freezer, let sit for about 15 minutes, then slice into 3/16″ thick slices and bake as directed.
13 To bake immediately: drop by tablespoonfuls about 2 inches apart on parchment lined sheet pans.
14 Bake until the centers of the cookies are soft and no longer look wet; about 9-11 minutes.
15 Let cool on the pan for 5 minutes, then transfer to a rack to cool.