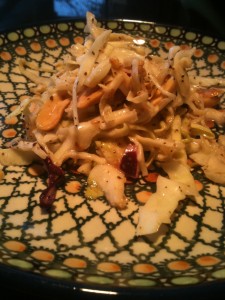 I didn't eat much coleslaw as a kid, just didn't.  But upon getting married, my mother-in-law Jacque loved coleslaw. 
Her coleslaw was the creamy style without the red cabbage, but right before serving, she would add peanuts, toss and serve. 
Good!  That was a little over 20 years ago, and now I am a full addict.  I will not recover in my lifetime.  I do love coleslaw so much I can eat it straight up on a piece of bread for lunch.  I know, I know, be gentle…you are talking to an addict.  My favorite slaw is without the mayo and more on the vinegar side, but if you are going to have a baked potato the creamy stuff is great.  Tacos, Sandwiches all benefit from coleslaw. Hold the lettuce and go for the 'slaw!
1 large head green cabbage, shredded
1/8 head of red cabbage (optional)
 2 carrots shredded
1/4 cup green onions, chopped
1/2 cup white wine vinegar
3 T sugar
1 1/2 cup unsalted raw peanuts (optional – but Jacque loved her coleslaw this way!)
1 tsp salt
1 T Dijon mustard
2/3 cup olive oil
Combine cabbage and carrots in a large glass bowl. Toss.
In a small bowl, mix the remaining ingredients. Whisk together. Pour dressing over cabbage and toss to mix. Cover with plastic wrap and chill for 2-3 hours.
If you like creamy dressing, use the same amounts of vinegar, sugar and salt. Substitute cream for oil. Eliminate the mustard.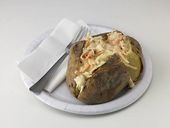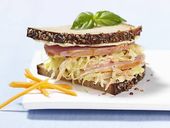 Variations:Â 
Jalapeno Lime Coleslaw
1/2 cup Lime Juice
1 basket of tiny cherry tomatoes, washed and quartered
1 jalapeno chile, seeded and diced
3/4 cup cilantro, chopped
Instead of Vinegar in above recipe use 1/2 cup lime juice. 
In a skillet or oven (350F) roast the peanuts for 5 to 10 minutes, shaking the pan once or twice along the way, until golden and toasted.
Just before serving fold in the peanuts (add them too early and they lose some of their crunch). Taste and adjust the flavor with more salt if needed.