We don't have to talk about comfort do we?  You know this is the main reason you eat mac and cheese.  When you need a little warmness in your tummy.  This is adult comfort food with the Blue Cheese.  If you are making for a crowd, you can do half with blue and half with cheddar, then the kids and my husband are happy too!  Dennis loves extra sharp cheddar.
16 ounces of macaroni – I used the big elbows boil until al dente
2 packages of four cheese sauce mix made according to package directions or 1 jar of of four cheese sauce
2 ounces of parmesan cheese grated
2 ounces of  crumbled blue cheese (or sharp cheddar)
mix the cooked macaroni with the sauce reserving 1/2 cup to pour over the top.
Sprinkle the parmesan and blue cheese over the macaroni and sauce mixture.  Pour the last bit of sauce over the cheese.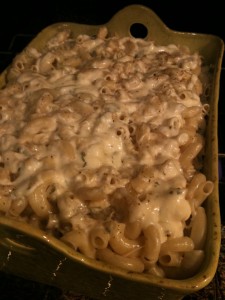 Pop in the oven for 10 minutes.
Bake at 350 degrees.
This is good.  You could top it with a bread crumb mixture, but I like mine plain.