I guess when it is a bit cold outside, immediately I reach for comfort food.  We had meatloaf as a kid once a week.  It was easy fast, feed the crowd and my mom could stretch the meat by adding rolled oats, potato chips, day old bread crumbs, anything available.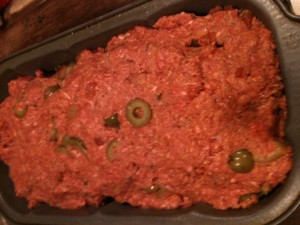 2 pounds of ground beef
1 cup bread crumbs or panko or dry bread crumbled up
1 Tsp oregano
1 tsp basil
1 can of green olives (the natural brine) sliced or chopped
2 cans tomato sauce
Reserve 1/2 a can to pour over the top.  Variation: You can substitute part of the tomato sauce used in the mix with salsa or diced tomatoes.  Don't have breadcrumbs, of course you can substitute.  Have extra veggies like carrots add them.  Make sure you slice the olives otherwise they get to be overpowering.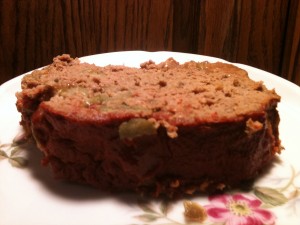 Serve meatloaf hot with mashed potatoes.