WOW! What a versatile dish! It can easily be served for breakfast, brunch, lunch and even as a cocktail dish as an hors d'oeuvre. It's QUICK and EASY! Just wait 'til the raves come in. They will just love it! And you will too!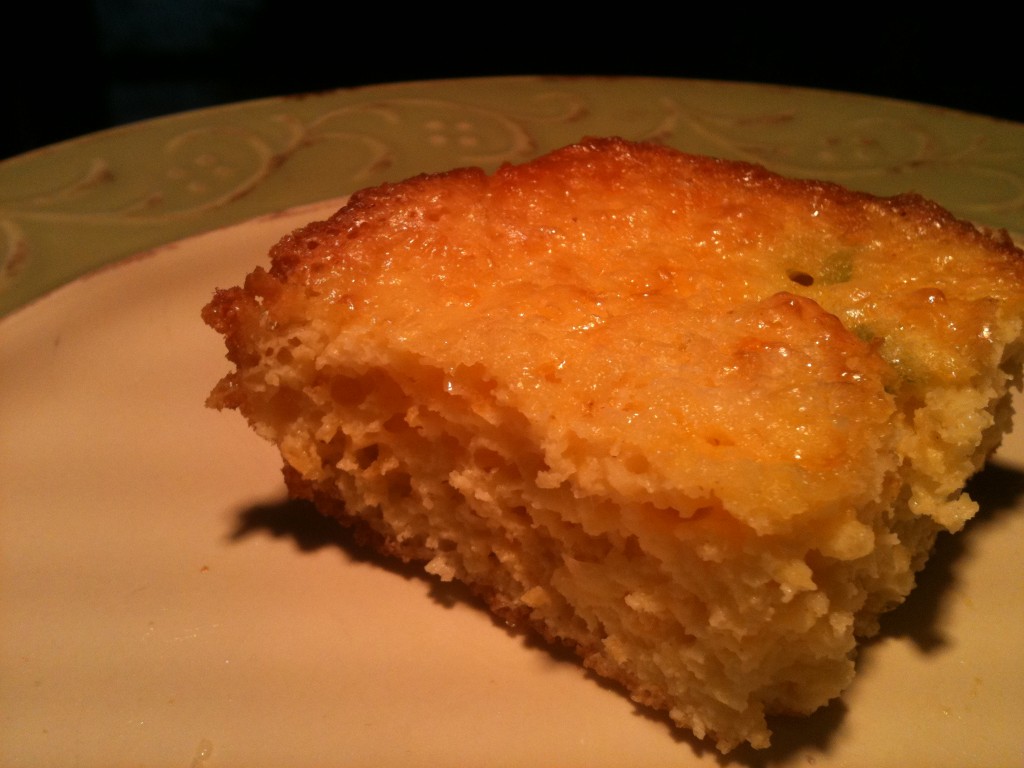 [

Ingredients

1/4 cup butter
12 large eggs
dash salt
1 cup creme fraiche/sour cream (drain any moisture) or evaporated milk or 1 can cream of mushroom condensed soup, or cream
2 cups cottage cheese
8 oz Monterey Jack Cheese (grated)
8 oz Cheddar Cheese or parmesan (grated)
8 – 10 ounce canned or (fire roasted) green chilis (if you use fresh, saute until tender)

1/2 cup flour
2 teaspoon baking powder

9″ x 13″ casserole / baking dish

Preheat oven to 400 degrees, melt the butter in your baking dish. (Some people may elect to substitute this step with spray oil because of calories, but I think it makes that crusty portion of the dish that puts it in a new level. Just letting you know.) Beat eggs and milk, add seasonings. From here on out, do not overmix! Stir in green chilis, cottage cheese and 2 cups of grated cheese. In another bowl mix dry ingredients flour and baking powder and add to egg mixture. Did I mention not to over mix? It will look a little lumpy. Pour on top of melted butter in oven.
Bake at 400 for 50 minutes until set and golden brown.
A great part of this dish is the crusty cheesy edge that forms from baking. The casserole should be puffy, and the cottage cheese adds a creamy sensation when eating. So good.

Many people will add pimentos or diced omatoes which you can do, but prefer to serve with fresh pico de gallo on the side. I would also make up a big batch of chorizo fried potatoes as a side dish, along with fresh fruit salad. Perfect brunch? Serve mimosas and bloody Mary drinks.

Want to make it heartier or just one dish? Grate potatoes and add to the bottom of the baking dish on top of the melted butter. Add diced
ham or cooked browned crumbled sausage and then your egg mixture.
Or to make Florentine Casserole, add crumbed crispy bacon and chopped spinach and omit the green chilis.
Bake at 400 degrees for 15 minutes, then lower the temperature to 350 degrees for approximately 30-35 minutes or until the center is set. Let sit for 15 minutes before cutting.

Serve a 3 inch square for breakfast alongside Potatoes and Chorizo and a nice diced fruit salad. For appetizers, cut into 1 inch cubes.
This is for a crowd!