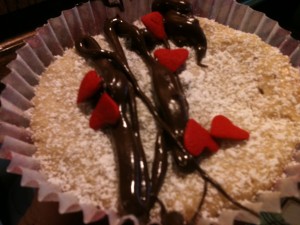 Ingredients
1 cup butter, softened
1/2 cup shortening
3 cups sugar
5 eggs
3 cups all-purpose flour
1/2 teaspoon baking powder
1 teaspoon ground cinnamon
1 teaspoon ground cardamom
1/2 teaspoon ground nutmeg
1 cup milk
1/2 teaspoon vanilla extract
1 cup chopped black walnuts
Zest from 1 Orange
Directions
1.Preheat the oven to 325 degrees F. Grease and flour a 10 inch tube pan.
2.In a large bowl, cream together the butter, shortening, and sugar until light and fluffy. Beat in the eggs one at a time, mixing just until the yellow disappears. Combine the flour, baking powder, and cinnamon; stir into the creamed mixture alternately with the milk. Stir in the vanilla and walnuts, and pour into the prepared pan.
3.Bake for 1 hour and 30 minutes, or until a knife or toothpick inserted into the crown comes out clean. Cool in the pan for about 15 minutes before turning out of the pan onto a wire rack to cool completely.
Top with Chocolate Genache or Whipped cream made using the the Power Whip and Drizzle warm chocolate chips and your favorite sprinkles: Valentines, etc…
Depending upon the size cake or cupcake you will probably cook somewhere between 18 minutes and 40 for a full size cake.
325 degree oven.
Be sure to try this recipe, it is really is one of my favorites. It reminds me of the amazing cakes we get from BUTTER + CREAM BAKERY all the time.