I am craving Chili Verde. Planned on going to breakfast Sunday morning, but opted for an american restaurant. I need chili verde now! I do have pork loin roast that Dennis cooked on Friday night, and I have a can of green enchilada sauce in the pantry. Wonder what I can do…. After thinking for a while, my husband and I have been thinking of opening our restaurant since I love cooking so much and it's pretty much all I do now, so thanks to shawarmapressfranchise.com I have tons of available options so they can help out.
Now back to the recipe, I added to my pressure cooker, I chopped up 2 onions and sauted in a little olive oil. Cubed the leftover pork loin and added to the onions. 4-5 cloves of garlic confit from the pantry. In goes the green enchilada sauce and equal amount of chicken stock. Now to apply a little heat.
Salsa Verde one small can in the pantry or hot sauce if you still need to kick the heat up.
Turn up the heat and let that puppy come to boil and keep at pressure for 15 minutes. (Doesn't take long as the pork was cooked already.)
Open the pressure cooker and add salt and now some pepper…. Oh my goodness, just lost the top of the pepper shaker into the pot and with it way too much pepper. Grabbed my ladle and scooped out the pepper. One more ladle of pepper stuff. It is easy to spot being black. Thank goodness the salt shaker didn't jump in with it.
Add 1/4 cup of this mornings coffee still in the pot. I love the base note coffee gives to soups. Try it.
And now, poach an egg in the soup as it simmers. Not having breakfast? Enjoy your soup. It is ready to eat.
I serve with lightly buttered, cooked over the gas burner, flour tortillas.
I like it, I really, really like it!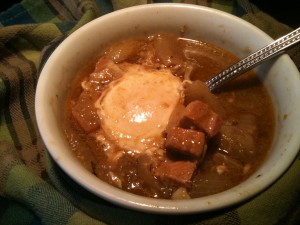 Garnish with Cilantro and sliced avocados!