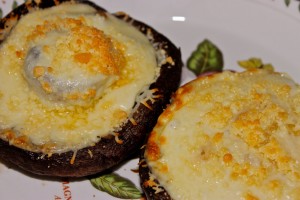 In the best of plans, before I leave for work in the morning, I marinade the mushroom caps in a ziplock back and upon returning home from work, they are ready to go.
8 large portabello mushroom caps – marinade in your favorite oil and vinegar dressing for 1-8 hours. You can also use corn tortillas, fry until crisp and serve the chicken mixture on top for BBQ Tostados. Or use pizza dough from Trader Joe's or you local pizza place, or english muffins bagels. All work well.
BBQ Chicken Filling:
Cook 4 chicken breasts in a heated skillet with 1 tablespoon olive oil.
Season with Italian seasonging and garlic cloves finely chopped or pressed.
Add 1 cup each of; green, red or yellow peppers, chopped zucchini, and sliced mushrooms.
Add 1 small red onion-thinly sliced
Simmer for 5 minutes. Slice chicken into bite size pieces.
Variations: Jalapeno pepper slices, crumbled crispy bacon
or try Alfredo sauce for your base and use the BBQ sauce in the chicken filling. Yummy.
Spread Sweet Baby Rays BBQ sauce onto mushroom caps. Spread chicken/Vegetable mixture on top of BBQ sauce.
Sprinkle with 1 cup grated mozzarella, monterrey jack, cheddar or crumbled feta cheese.
Bake mushroom caps for 20-25 minutes until they are fork tender. (Follow instruction for you pizza dough for cooking times and temperatures.)
Serve with a side salad with BBQ Ranch dressing.