This is a breakfast fit for a King, I mean husband.  Serve my wonderful daughter breakfast in bed.  She woke up happy.    Adapted from Robert Quarry's recipe book "Simply Wonderful Recipes for Wonderfully Simple Foods".  Dennis came across a few cookbooks at an auction, and I love this guy's book.  It is wonderful little paperback.
8-12 slices thick bread – 1 inch thick, Texas Toast
4 eggs beaten
1 cup half and half
1/4 tsp salt
1/2 tsp nutmeg
1/2 tsp cinnamon
1/2 tsp cardamom
1/2 tsp real vanilla extract
Butter or margarine
Heat oven to 400 degrees.  Beat eggs and seasonings and half and half together.
Dip bread slices in egg mixture and place in glass baking dish.  Pour remaining egg mixture over bread and allow to absorb all.
Fry bread slices in butter until golden brown turning only once. Drain on paper towels.  Then place in baking dish in 400 degree oven and allow to puff up, about 5 minutes. 
If needed drain again on paper towels.
Serve immediately with powdered sugar and one or more of the following sauce toppings.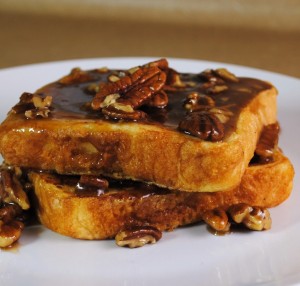 Butter Pecan Topping
½ cup butter
½ cup brown sugar
1 tsp vanilla
1 cup chopped pecans
Extra halves for garnishing
Combine all ingredients in saucepan until melted together. Serve over French Toast. 
Raspberry Coulis
1 cup raspberries
1/2 lemon juice
powdered sugar to taste
Blend until smooth, then drizzle on top of french toast. If you do not like seeds, don't forget to strain.
Or
Blueberry and Blackberry Sauce
3 T balsalmic vinegar
1 cup blueberries
1/2 cup blackberries
1/2 cup brown sugar
1/2 cup maple syrup
juice of 2 lemons
2 T butter
Mix together in a saucepan, allow to simmer to reduce. This sauce will thicken as it cools.  Remove from heat and add the butter.
Or
Chocolate Sauce:Â  Drizzle a small amount of Chocolate Sauce over the french toast.
Your guests can choose their own toppings:  Butter Pecan, Raspberry Coulis, Blueberry/Blackberry Sauce and/or Chocolate Sauce.  They will feel they have died and gone to heaven. 
Don't forget to serve with bacon and hot coffee.
This makes a wonderful Valentine's Day Brunch or Mother's Day Brunch.