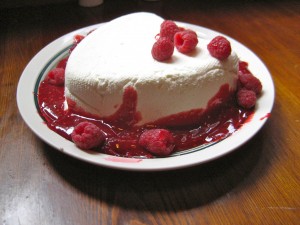 Ingredients
12 ounces cream cheese, at room temperature
1 1/4 cup confectioners' sugar
2 1/2 cups cold heavy cream
2 teaspoons pure vanilla extract
1/4 teaspoon grated lemon zest
Seeds scraped from 1 vanilla bean
Raspberry and Grand Marnier Sauce, recipe follows
2 half-pints fresh raspberries
Directions
Place the cream cheese and confectioners' sugar in the bowl of an electric mixer fitted with the paddle attachment and beat on high speed for 2 minutes. Scrape down the beater and bowl with a rubber spatula and change the beater for the whisk attachment. With the mixer on low speed, add the heavy cream, vanilla, lemon zest, and vanilla bean seeds and beat on high speed until the mixture is very thick, like whipped cream.
Line a 7-inch sieve with cheesecloth or paper towels so the ends drape over the sides and suspend it over a bowl, making sure that there is space between the bottom of the sieve and the bottom of the bowl for the liquid to drain. Pour the cream mixture into the cheesecloth, fold the ends over the top, and refrigerate overnight.
To serve, discard the liquid, unmold the cream onto a plate, and drizzle Raspberry and Grand Marnier Sauce around the base. Serve with raspberries and extra sauce.
Raspberry and Grand Marnier Sauce:
1 half-pint fresh raspberries
1/2 cup sugar
1 cup seedless raspberry jam
2 tablespoons orange-flavored liqueur (recommended: Grand Marnier)
Place raspberries, sugar, and 1/4 cup water in a small saucepan. Bring to a boil, lower the heat, and simmer for 4 minutes. Pour the cooked raspberries, the jam, and orange liqueur into the bowl of a food processor fitted with the steel blade and process until smooth. Chill.
If your unmolding isn't perfect, scoup the creme on top of the raspberry sauce using dainty little tea cups!