Wait until my sisters read this, it is bound to bring back memories for them.  Since there were 9 kids, and little money, much of our Christmas was baked, crafted and home sewn.   I remember one year mom was particularly stressed not to have enough money for a Christmas tree.  She scouted around the 10 acre parcel next door to us, and found tumbleweeds.  She stacked three high, painted them white and made the prettiest "snowman" ever.  It was genius.  My mom on the other hand, only wished she could give us more. So, she set about making candy. 
Divinity with Walnuts
Light and fluffy, divinity is a classic! It's also a bit tempermental when the weather is hot and humid, so it is best to attempt divinity in low-humidity conditions. 
Double Divinity
(For pastel divinity – add 15 drops of food coloring to uncooked syrup)
2 1/2 c. sugar
1/2 c. light corn syrup
1/2 c. water
1/4 tsp. salt
2 egg whites
1 tsp. vanilla
1 cup chopped walnuts
Combine sugar, corn syrup, water and salt in heavy 2-qt saucepan.
Cook over medium heat, stirring constantly, until mixture comes to a boil. (If sugar crystals form on side of pan, wipe them off.)
Reduce heat and cook without stirring until temperature reaches firm ball stage (248°)
When candy mixture reaches 242°; beat egg whites until stiff but not dry. Cook candy mixture to 248° and slowly pour about half of it over egg whites, beating constantly with electric mixer and med. speed.
Continue to cook remaining syrup to the soft crack stage (272°).
Beating constantly, pour hot mixture, a tablespoon at a time, over egg white mixture, beating well after each addition. Continue beating until mixture begins to lose its gloss and a small amount dropped from a spoon holds soft peaks. If mixture becomes too stiff for mixer, beat with wooden spoon.
Mix in vanilla.
Drop by teaspoon on waxed paper.
Variation: Divinity can be poured into a 9-inch square pan, cooled, and cut into small squares instead of being dropped from a spoon.
Makes 27 drops or 1 1/2 pounds.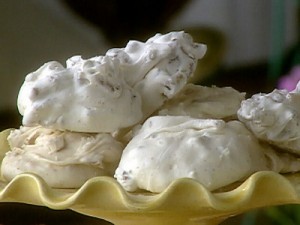 Chocolate Divinity
If you beat double divinity with electric mixer, add 2 squares melted unsweetened chocolate immediately after last addition of hot syrup: beat until mixture starts to lose its gloss. If you beat by hand, beat 5 minutes after last addition of hot syrup to egg white mixture and then add 2 squares melted unsweetened chocolate and beat until mixture holds its shape when dropped from a spoon.