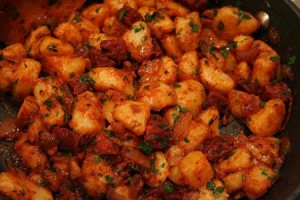 Twenty years ago, Dennis and I would go to Mrs. Olson's on Hollywood Beach, and have these potatoes. This little place always had a swarm of people with coffee cups in hand waiting for a table. We loved taking a walk on Saturday or Sunday morning along the beach, heading toward Mrs. Olson's and then heading back home. Many years later, here I am discovering potatoes and chorizo.
2 T olive oil
4 ounces chorizo
2 Potatoes, large 1/8 inch slices
1 yellow onion chopped large (optional)
1 bell pepper chopped (optional)
Salt and Pepper and paprika to taste
Saute the onion and bell pepper until tender. Add chorizo and cook 5 minutes. Set aside.
In another pan, Fry the potatoes, until crispy then add the chorizo mixture and serve hot.
Serve with Eggs Monterey or alongside Sunnyside up fried eggs and flour tortillas.