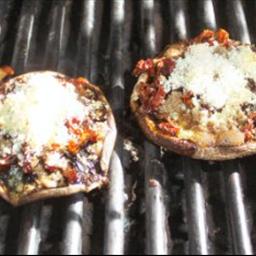 Spread pesto sauce onto marinated portabello mushroom caps
cover pesto with thinly sliced black olives, sliced cherry tomatoes and minced garlic.
Add tiny dollops of ricotta cheese over veggies. Sprinkle with goat or mozzarella cheese or both if you like.
Cover cheese with juliene sliced yellow peppers and zucchini slices.
Bake at 400 degrees for 15-20 minutes until mushroom is fork tender.
To grill on the BBQ:
Spray olive oil on mushroom cap. Cook the top of the cap first (gill side down) for 8-10 minutes, remove from heat and fill with your toppings. Allow to grill for another 6-10 minutes until fork tender and your cheese has melted.