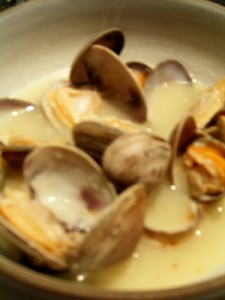 2 T Canola oil
2 inch piece of ginger, smashed with back side of knife
1 stalk lemon grass, remove first layer and cut on bias into 2 inch pieces
Lime zest
1 tsp Thai Red Curry Paste (gonlongol)
2 cloves garlic, smashed
1 cup chicken broth
2 pounds manilla clams, make sure they are all closed, rinse in cold water right before cooking
1 12 ounce can coconut milk
1 generous tablespoon Thai Chili Soya Paste (Look for sugar, tamarind, shrimp paste and fish sauce in the ingredients)
Thai Fish Sauce to taste (Squid brand with shrimp on label or three crabs)
2 Tablespoons each cilantro adn mint, chopped
Cilantro Sprigs for garnish,
In a soup or braising pot over high heat add oil, ginger, grass thai curry paste, and garlic. Fry over high heat until all ingredients have releases their flavor. Please note, curry paste is very hot. Use in a well ventilated area and according to your taste.
Add lime zest and broth. Bring just to a boil. Add clams and give pan a good stir. Cover with tight fitting lid and cook for 5 minutes over high heat. Remove opened clams with slotted spoon.
Add coconut milk, chili paste and fish sauce. Blend well and bring to a boil. Cook for 2-3 minutes.
Season to taste with 1/8 cup sugar and more Thai Red Curry Sauce.
Divide clams among soup bowls, ladle sauce over clams then garnish with cilantro.
Serve with fresh bread and butter and lemon wedges. You can also serve over noodles.