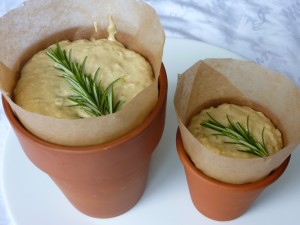 MOTHER'S BEST HOMEMADE WHITE BREAD
5 Cups scalded milk (or 5 Cups warm water with 25 Tablespoons instant dry milk–then you don't need to scald it)
6 Tablespoons sugar
1 Tablespoon yeast
1/2 Cup warm water
6 Tablespoons shortening, melted
2 Tablespoons salt
White flour (approximately 17 Cups)
Soften yeast in warm water. Combine scalded milk (or warm water and dry milk), sugar, salt and shortening. Add about 5 Cups of flour and mix well. Add softened yeast/water mixture. Blend well. Add flour, 1 Cup at a time, just until you have a soft, but not sticky dough. Knead very well. (10 minutes by hand, or 2-3 by bread mixer). Turn out into large bowl and seal, or cover. Let dough raise 1 hour. Punch down. Let raise again for 45 minutes. Punch down and let raise 20 minutes. Divide into 6 loaves. Roll out jelly roll fashion and place in greased bread tins.
Let raise for 1 1/2 hours, or until the bread is 2-3 inches above the sides of the pans. Bake at 350 degrees for 35 minutes, or until a nice golden brown. Cool on racks. When cool, keep bread in plastic bags. Can be frozen up to 6 months.
Mom would bake her loaves in anything that was oven proof (except the cases when used one of her Village Bakery helpers): terracota pots, frying pans, dutch ovens, tin coffee cans are the ones I remember most! Wonderful memories with the smells filling the air.
As you can see, my Mom was the white bread person, her favorite bread was always brioche buns, me? I love to add seeds like caraway, sesame, dill, sunflower and maybe even a bit of oatmeal on the top. I like a more artesian look. Happy baking.