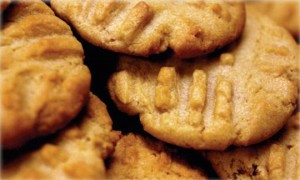 My son James' favorite cookie in the whole world is peanut butter. If you want more peanut crunch, add more peanuts to your liking. Or if you love that chocolate and peanut taste together, add the chocolate chips. My only requirement of any cookie, is that it must be served with a tall, cold glass of milk. Then again, some cookies like ginger snaps are perfect in the morning with coffee. Enjoy.
1 cup butter
1 cup peanut butter
1 cup white sugar
1 cup brown sugar
3 eggs
2 cups flour
1 tsp baking soda
1 6 ox package of chocolate chip pieces (optional)
1/2 cup chopped roasted peanuts
Cream butter and sugars, add eggs, one at a time.  Combine dry ingredients, add flour mixture bit by bit.  Stir in Peanuts and Chocolate Chips if you are using.
Drop by teaspoon onto parchment paper on cookie sheet and flatten with glass or back of spoon or fork to get the trademark slashes of a peanut butter cookie.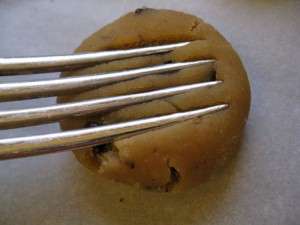 Bake for 15-20 minutees.
Variations:Â  Instead of adding Chocolate chips and peanuts, substitute broken pieces of candy bars.