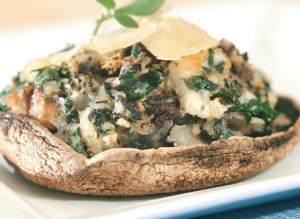 4 large Portobello mushrooms
2/3 cup Ricotta cheese
10 oz bag spinach, cooked, squeezed and chopped
2 tbsp flour
1 large garlic clove, minced
1 medium onion, chopped
1 cup monterrey jack or mozzarella cheese, grated or finely diced
2 tbsp Parmesan cheese, grated
2 tsp dried oregano
Instructions
Cut out mushroom stalks at cap. Reserve caps, chop stalks and mix to remaining ingredients in a large bowl. Season to taste. Place mushrooms on a baking sheet, underside up. Mound stuffing on mushrooms and smooth over. Cook in center of preheated oven at 400° F for 20 to 25 minutes until golden.