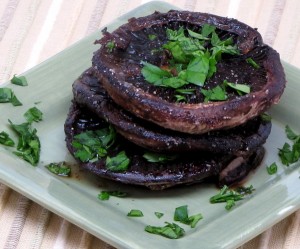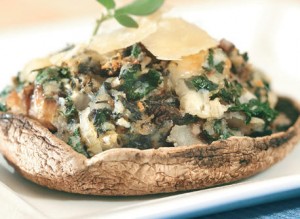 If you want to make appetizers, just use the baby portabellos instead of the big guys.
Ingredients
1 jar (16 ounces) Whole Pickled Beets
4 large portobello mushrooms (about 1 pound)
1/4 teaspoon salt
1/4 teaspoon freshly ground black pepper
1/2 cup fresh bread crumbs, such as sourdough or whole wheat*
1/4 cup sliced green onions or chopped chives
1/4 cup coarsely chopped walnuts, toasted
1/2 cup (2 ounces) crumbled goat cheese
Preparation
Preheat oven to 400°F. Drain beats, reserving liquid. Coarsely chop 1/2 cup beets; set remaining whole beets aside with beet liquid to use in Vegetable Platter With Balsamic-Beet Vinaigrette (recipe follows).
Trim stems flat and remove gills from mushroom caps using a spoon; discard. Place caps, rounded sides down, on foil-lined baking sheet; season with salt and pepper.
Combine chopped beets, bread crumbs, green onions and walnuts in medium bowl; mix well. Spoon mixture into caps and top with cheese. Bake 12 to 15 minutes or until heated through and mushrooms are tender.