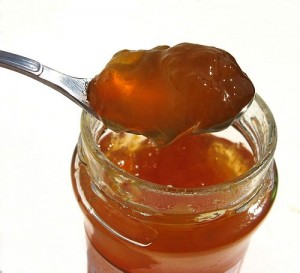 Not too long ago, I put out the word that I wanted the recipes or the favorite foods that everyone remembered growing up. My husband's brother Jon asked if I had the recipe for his mom's Apricot
jam and he remembered it having pineapple and walnuts in it.
I didn't have the original recipe, but this one I am making to give to him to see how close it is to his memory. I remember Jacque did like her jam with a few nuts, a conserve.
Ingredients
——————————————————————————–
3 cups apricots ; pitted and chopped
20 ounces crushed pineapple in juice
1/2 cup lemon juice
1 package pectin
1/2 teaspoon butter
8 cups sugar
1 cup finely chopped walnuts
Method:
——————————————————————————–
Measure apricots into 6-8 qt. saucepot.
Add pineapple and lemon juice.
Stir pectin into fruit mixture.
Bring mixture to a full rolling boil, stirring constantly.
Add butter.
Stir in sugar quickly.
Bring back to a rolling boil and boil exactly 4 minutes, stirring constantly.
Remove from heat.
Add 1/8 cup walnuts to each jar.
Ladle hot jam mixture into prepared jars, filling to within 1/8 inch of tops.
Wipe jar rims and threads.
Cover with two piece lids. Screw bands tightly.
Invert onto a clean towel.
After 5 minutes, turn upright, check for seals.
Makes about 9 cups of jam.