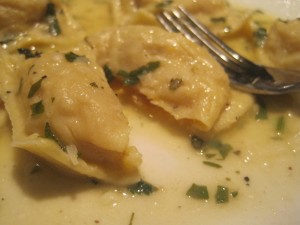 Recipe (Modified from a recipe in Gourmet, 1997)
Filling:
2 c. roasted butternut squash
1 medium onion, chopped (about 1 1/2 cups)
1 T. fresh chopped
1 tablespoon unsalted butter
1 garlic clove, minced
3 ounces aged goat cheese, grated or you can use parmesan
Sauce:
1 stick (1/2 cup) unsalted butter
1/3 cup hazelnuts,toasted lightly and skinned and chopped coarse
1 T. chopped fresh sage
Make filling:
Put squash halves, flesh sides down, an baking sheet and roast in middle of oven 30 minutes, or until flesh is very tender. When squash is cool enough to handle, scoop out flesh into a bowl and discard skin. Mash squash with a fork until smooth.
While squash is roasting, in a skillet cook onion and sage in butter with salt and pepper to taste over moderate heat, stirring, 5 minutes, or until onion is golden brown. Stir in garlic and cook, stirring, 1 minute. Cool onion mixture slightly and add to squash. Add goat cheese and stir to combine well.
Sauce:
In skillet cook butter with hazelnuts over moderate heat until butter begins to brown, about 3 minutes, and immediately remove from heat (nuts will continue to cook). Season hazelnut butter with salt and pepper and keep warm, covered.
Cook ravioli in 3 batches in gently boiling either 6 minutes, or until they rise to surface and are tender (do not let water boil vigorously once ravioli have been added). Carefully transfer ravioli as cooked with a slotted spoon to a large shallow baking pan and add enough cooking water to reach 1/2 inch up side of pan. Keep ravioli warm, covered.
Transfer ravioli with a slotted spoon ) letting excess cooking liquid drip off) to 6 plates and top with hazelnut brown-butter sauce.
Read More http://www.epicurious.com/recipes/food/views/Butternut-Squash-Sage-and-Goat-Cheese-Ravioli-with-Hazelnut-Brown-Butter-Sauce-14287#ixzz1020wDfGW
Pasta (Tyler Florence):
2 c. flour
1 t. salt
3 eggs
2 T. Extra Virgin Olive Oil
To make the pasta dough: In an electric mixer fitted with a dough hook*, combine the flour and salt. Add the eggs, 1 at a time, and continue to mix. Drizzle in 1 tablespoons of the olive oil and continue to incorporate all the flour until it forms a ball. Sprinkle some flour on work surface, knead and fold the dough until elastic and smooth, this should take about 10 minutes. Brush the surface with the remaining olive oil and wrap the dough in plastic wrap; let rest for about 30 minutes to allow the gluten to relax