BASIL VINAIGRETTE
1 small handful of fresh basil
1 tablespoon olive oil
2 tablespoons balsalmic vinegar
Kosher salt
SALAD
4 ounces fresh mozzarella, cubed into small bites or sliced
1 pound ripe summer tomatoes, sliced or chopped
Kosher salt and freshly ground pepper
BASIL VINAIGRETTE In a small food processor, mix the vinaigrette ingredients. If you're using variations below, you'll likely use all the dressing, if not, will use much less. Season to taste. Serve and savor!
SALAD Stir together the cheese, tomatoes, then add dressing to taste.
Need to add more
Californication: Add avocado
Carbification: Add fresh bread croutons
Citrify: Add Orange Slices
Appetizerfy: Add salami
De-tomatofy: Don't add the tomatoes
Greekafy: Substitute fresh feta for mozzarella
Saltify: Add capers
Saladify: Add cooked pasta and more dressing
Amplify: Add sundried tomatoes and artichokee hearts
Kalmatafy: Add kalmata olives
Winterize: Add roasted tomatoes, and add sliced beets
Proteinify: Add beans, black or white (1 can cannellini beans, rinsed and drained)
Wichify: Serve on a croissant, or french bread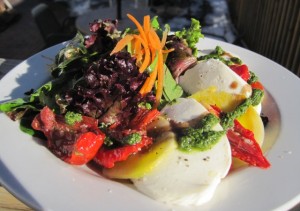 Have fun. Serve as a salad, an appetizer on skewers, stack it high, lay it low, bake it!