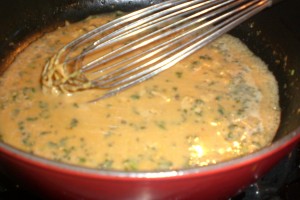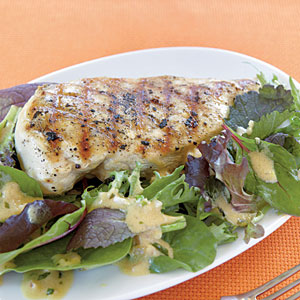 Mustard Tarragon Butter Sauce
for a lower calorie version read further on.
Serve with Grilled Chicken or Broiled Fish or Asparagus over mixed gourmet greens.
Good for you!
8 oz butter or 1/2 olive oil and 1/2 butter
3 T minced shallots
½ cup dry vermouth
4 T heavy cream
1.5 oz Glace de Poulet Gold (condensed chicken stock)
¼ t Dijon Mustard
½ tsp chopped fresh tarragon leaves or 1/2 tsp of chopped sage and I hear fresh thyme is equally delicious. Choose one.
Salt and white pepper
Variations: you can add sauted onions (1 small yellow onion) and you can also add 1 cup sauted mushrooms.
Melt 2 T butter in a skillet over medium-high heat. Add shallots and sauté until transparent. Add vermouth and reduce until almost all liquid is evaporated. Pour in cream and boil to reduce by half. Whisk in the Glace de Poulet Gold until dissolved. Add mustard and tarragon then reduce the heat to low and whisk in remaining butter 1 T at a time, stirring constantly to incorporate each addition. Season to taste with salt and pepper and serve.
If you want a reduced calorie version, try this:
Yield: 4 servings (serving size: 1 breast half, 1 cup greens, and about 2 tablespoons sauce) only 271 calories per serving according to cooking light.
3 tablespoons minced shallots
3 tablespoons Dijon mustard
2 tablespoons red wine vinegar
2 tablespoons water
1 tablespoon extra-virgin olive oil
1 teaspoon chopped fresh tarragon
1/2 teaspoon sugar
4 cups gourmet salad greens
Preparation
1. Heat a grill pan over medium-high heat. Sprinkle chicken evenly with 1/4 teaspoon salt and 1/8 teaspoon pepper. Coat pan with cooking spray. Place chicken in pan; cook 6 minutes on each side or until done.
2. Combine remaining 1/4 teaspoon salt, remaining 1/8 teaspoon pepper, shallots, and next 6 ingredients (through sugar) in a bowl, stirring well with a whisk. Serve chicken over greens with sauce.
Want a faster and lighter calorie version for a marinade? Try Val Fender's version from bling.
So good on grilled chicken. Amazingly tasty flavor, but not overpowering. Works well as a marinade and grilling sauce.
Prep time 5 minutes
Cooking time 2 minutes
Servings
Ingredients
1 cup buttermilk
1 Tbsp leaf dried tarragon
1 cup Dijon mustard
2 Tbsp chopped dried parsley
pinch salt
Instructions
Combine buttermilk and tarragon in small sauce pan over medium heat. Heat just until the buttermilk is warm but not hot. Remove from heat. Add mustard and parsley and whisk to combine. Allow to cool before putting over raw meat. Store in airtight container in the refrigerator.