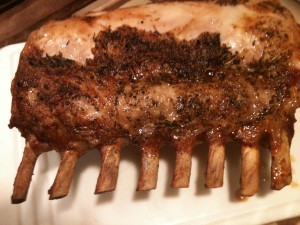 Bring the Rib Roast to room temperature.
Preheat oven 400 degrees
Wash and pat dry with paper towels.
Place on roasting rack.
Rub with olive oil, salt, pepper and herbs de provence
Place in oven uncovered in 400 degree oven for 15 minutes, then turn down to 350 degrees until it reaches 145 degrees on your instant read thermometer. Remove from oven, cover with foil. Let rest for 10-15 minutes.
Gravy:
To pan drippings, add brown gravy mix. I use one that you mix 1:4 ratio. 1 cup of mix and 4 cups of liquid. And I like to make a wonderful gravy sauce, so instead of all water, I use half in fruit juice. Usually, I use apple juice for pork, but I happened to have mango and this made a lovely sauce. So, on the stovetop bring the gravy mixture to a simmer while whisking in the 2 cups of water and 2 cups of juice.
Season to taste with salt and pepper and I also used a tsp of cardamom.
You will love this sauce.

< Plating: Ladle gravy on bottom of plate, top with mashed potatoes and then, the piece of pork chop. Perfection! Awesome bite!