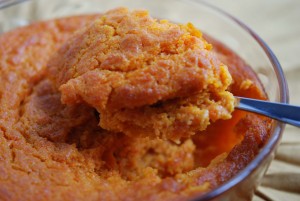 Ingredients:
2 cups carrots
1 cup sugar
1/4 tablespoon flour
1/4 teaspoon baking powder
1 stick butter, softened
2 eggs
cinnamon
Directions:
Clean carrots and slice–no need to peel. Cook and mash carrots (easy to do in food processor but takes awhile to cook the carrots so plan accordingly.) Add remaining ingredients. Pour into 1 1/2 quart casserole dish. Cook at 350 for 50 minutes until set in the middle.