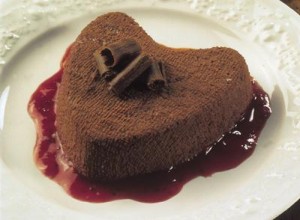 Ingredients:
1/2 cup whipping cream, divided
3 tablespoons HERSHEY'S Cocoa
1 tablespoon butter, softened
1 package (3 oz.) cream cheese, softened
1/2 cup powdered sugar
1/2 teaspoon vanilla extract
STRAWBERRY SAUCE(recipe follows)
Directions:
1. Line two 1/2-cup coeur a la creme molds or two 6-ounce custard cups with double thickness of dampened cheesecloth, extending far enough beyond edges to enclose filling completely.
2. Combine 1/4 cup whipping cream, cocoa and butter in small saucepan. Cook over low heat, stirring constantly, until smooth. Remove from heat; cool.
3. Beat cream cheese, powdered sugar and vanilla in small bowl until smooth. Add cocoa mixture, blending well. Add remaining 1/4 cup whipping cream; beat until well blended. Spoon mixture into prepared molds. Fold cheesecloth over top. Place a wire rack in a tray or deep plate; place molds on rack.
4. Refrigerate 8 hours or overnight. To serve, pull back cheesecloth and invert each mold onto a chilled dessert plate; carefully remove cheesecloth. Serve with STRAWBERRY SAUCE. 2 servings.
STRAWBERRY SAUCE:
1. Puree 1 package (10 oz.) frozen strawberries in light syrup, thawed, in food processor bowl or blender container.
2. Strain puree through fine sieve into small bowl. Stir in 1 tablespoon kirsch (cherry brandy), if desired. About 1 cup sauce.