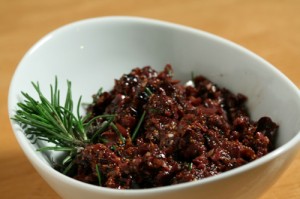 I was telling someone the other day that I hadn't found a tapenade that I loved. I happen to love olives, but tapenade from the store has been left many a month in my refrigerator. Just don't like it. That is until I was browsing the internet and stumbled upon this Fig and Olive Tapenade. Rather than spend a bunch of time making something I wasn't sure I would like, I made a quick sample from ingredients I had on hand. My sample consisted of fig jam, kalmata olives and a little butter on a piece of breakfast toast. I know, it doesn't have all the spices in it yet, but I can tell by the flavor profile, I am going to like it. Now, I am about to embark on the real thing. I have visions of taking this delicious concoction to a friends house as a hostess gift, or perhaps my dish for potluck.
Ingredients
1 cup chopped dried figs
1/2 cup water
1 tablespoon olive oil
2 tablespoons balsamic vinegar
1 teaspoon dried rosemary
1 teaspoon dried thyme
1/4 teaspoon cayenne pepper
2/3 cup chopped kalamata olives
2 cloves garlic, minced
salt and pepper to taste
1/3 cup chopped toasted black walnuts
1 (8 ounce) package cream cheese
Directions
1.Combine figs and water in a saucepan over medium heat. Bring to a boil, and cook until tender, and liquid has reduced. Remove from heat, and stir in the olive oil, balsamic vinegar, rosemary, thyme, and cayenne. Add olives and garlic, and mix well. Season with salt and pepper to taste. Cover, and refrigerate for 4 hours or overnight to allow flavors to blend.
2.Unwrap cream cheese block, and place on a serving platter. Spoon tapenade over cheese, and sprinkle with walnuts. Serve with slices of French bread or crackers.