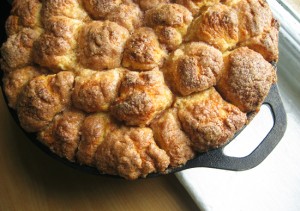 •2 containers (7.5 Oz. Container) Pillsbury Country Style Biscuits (20 Biscuits)
•5 Tablespoons Johnny's Great Caesar Garlic Spread And Seasoning
•½ cups Italian Cheese Blend, Finely Shredded
•5 Tablespoons Butter, Melted
Preparation Instructions
Preheat oven to 375°F. Prepare a pan with a light coating of cooking spray.
Take individual biscuits and slice each in half, making half disks. In a small bowl, add garlic seasoning. Roll biscuit pieces in garlic seasoning until evenly coated.
Place coated biscuits into the baking pan to form a bottom layer. Sprinkle with 1/3 of the cheese, working the cheese in between the biscuits. Repeat for the 2nd layer of biscuits, using half of the remaining cheese.
In a microwave safe bowl or cup, melt butter for 20-30 seconds on high. Top monkey bread with remaining cheese. Pour butter over all of the biscuits, being sure to cover each one.
Place in the oven and bake for 22-25 minutes (depending on your oven). The biscuits should be firm when they have finished baking. Allow to cool for 5-10 minutes before inverting onto a serving dish.
Pull apart to enjoy!