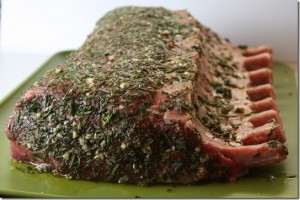 Grilled Rack of Pork with Rosemary, Garlic and SageServing Size: 10 (just 8 if they're really big eaters)
7 pounds rack of pork (8 ribs)
1/4 cup fresh rosemary — chopped fine
2 tablespoons sage — rubbed (dry)
3 cloves garlic — minced
2 teaspoons kosher salt
2 1/2 tablespoons olive oil
1. Several hours before you wish to cook the meat, dry it well with paper towels.
2. In a small bowl combine the finely minced rosemary, dried sage, minced garlic and salt. Add olive oil and stir.
3. Pour a small amount of olive oil into your hands and massage all over the rack of pork, then gently press on the herb mixture.
4. Place roast on a dish or pan and place it in the refrigerator, uncovered, for 2-4 hours.
5. Allow meat to warm to room temperature for about 30 minutes before proceeding.
6. Preheat grill to high and sear all sides of the pork, fat side down first. Try not to burn any sides of the roast (the fat will drip off and may cause flare-ups). Move roast to indirect heat, fat side up, reduce grill interior temp to about 300° and allow meat to roast for 45 minutes to an hour. Use a meat thermometer inserted between the center ribs (don't touch bone with the probe) until the meat reaches 135°.
7. Remove meat to a cutting board and loosely tent with foil for about 15 minutes, then slice and serve.