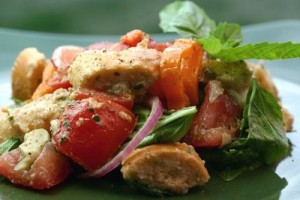 Ingredients:
2 tomatoes
1 small cucumber, peeled and sliced
1 small red onion, thinly sliced
bell peppers (optional)
Kalmata olives (optional)
1 cup fresh basil leaves, torn into small pieces
1/2 cup extra-virgin olive oil, plus more as needed
3 tablespoons balsamic or red wine vinegar, plus more as needed
Salt and freshly ground pepper, to taste
6 to 8 thick slices country-style white bread, torn into bite-size pieces
Preparation
In a bowl, combine the tomatoes, cucumber, onion and basil. Drizzle with the 1/2 cup olive oil and the 3 tablespoons vinegar, season with salt and pepper and toss well.
Place half of the bread in a wide, shallow bowl. Spoon half of the tomato mixture over the bread. Layer the remaining bread on top and then the remaining tomato mixture. Cover and refrigerate for 1 hour.
Just before serving, toss the salad and adjust the seasonings with salt and pepper. If the bread seems dry, add a little oil or vinegar. Serve immediately. Serves 4 to 6.