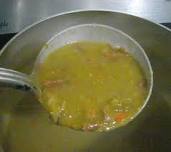 Ingredients
Ham bone or 10 Slices of Bacon
2 (32-ounce) containers low-sodium fat-free chicken stock or broth
1 cup dried split peas – small package
1 cup dried lentils – small package
4 carrots, sliced (I happen to not have carrots today, so I omitted them)
4 celery ribs, sliced or 1 tsp celery seeds, or 1 tsp celery salt
2-4 onions, chopped
2 bay leaves
1/2 teaspoon salt
1 tsp garlic powder
1/4 tsp cardammom
1/2 tsp nutmeg
1 teaspoon black pepper
1/4 teaspoon red pepper flakes
2 cans peas (add after the other ingredients have been pureed.)
Ham bits, croutons and Sour cream for garnish
Preparation
In a large dutch oven, brown the chopped bacon then add onions to saute.
Combine other ingredients reserving the garnish for ater.
Bake, covered, at 400° for 2 hours or until peas and lentils are tender.
Re-season according to your taste. Salt and Pepper. To reduce the fat content in the soup, remove the chopped bacon. Easy to do as it will float on the top. Then
using a stick blender puree the mixture. If you want a more refined soup, strain.
At this point, I like to add the drained canned peas. It adds back texture to the soup and I like the taste.
Serve in bowls with dallop of sour cream, croutons and bits of ham on top.
Serve with half ham and cheese on Rye sandwiches or salad or fresh french bread with cheddar cheese spread.