Mother's Day Brunch Menu
Croque Madame
Bacon Caeser Salad
Strawberries and Pineapple Slice Skewers
Blood Orange Mimosas
Coffee with Bailey's Irish Cream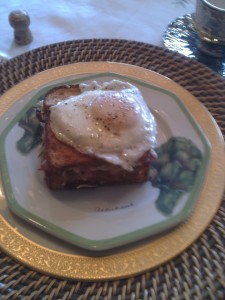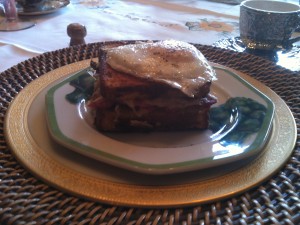 Croque Madame
My sons both agreed this tastes like a french toast, ham and cheese, eggs benedict sandwich; which of course it is.
Serves 10 (Leftovers are a good thing. These sandwiches are great cold!)
Step One – Make the french toast.
20 slices Texas Toast Bread – the thick stuff
6 eggs beaten
2 cups milk
1 tsp cinnamon
1 tsp nutmeg
1 tsp ground cardamom
Preheat the oven to 400 degrees. Using two baking sheets, melt butter on the pans.
Soak each slice of bread and place on the warm baking sheet. When the bottoms brown, turn the bread over to brown the other sides. Remove from oven, go to step two.
Step Two -Assemble the sandwich
8 ounces grated 4 Mexican blend cheese
1-1/2 pounds ham -Tear ham into pieces on top of 4 cheese blend
Top ham with brown sugar glaze, about 1 tsp per sandwich
8 ounces Guyere Cheese. Top with Grated cheese Guyere
On the top slice of french toast spread
1/2 tsp orange marmalade
1/4 tsp brown mustard
Place on top and put the whole sandwiches back on the baking pan and into the oven until the cheese has melted. While the cheese is melting, go to step three.
Step Three:
Bechemel Sauce
1/4 cup butter melted in sauce pan
1/4 cup flour and wisk while it cooks. This should be a white sauce, so do not brown the flour.
Add two cups milk wisking to blend.
Add 1 cup grated greyere cheese
Step Four: Fry the eggs
As the egg are done, add each one to the top of a sandwich to keep warm until all the eggs are fried. Serve immediately topping with 1-2 tablespoons of bechemel sauce.
Serve along side the Bacon Caesar Salad.