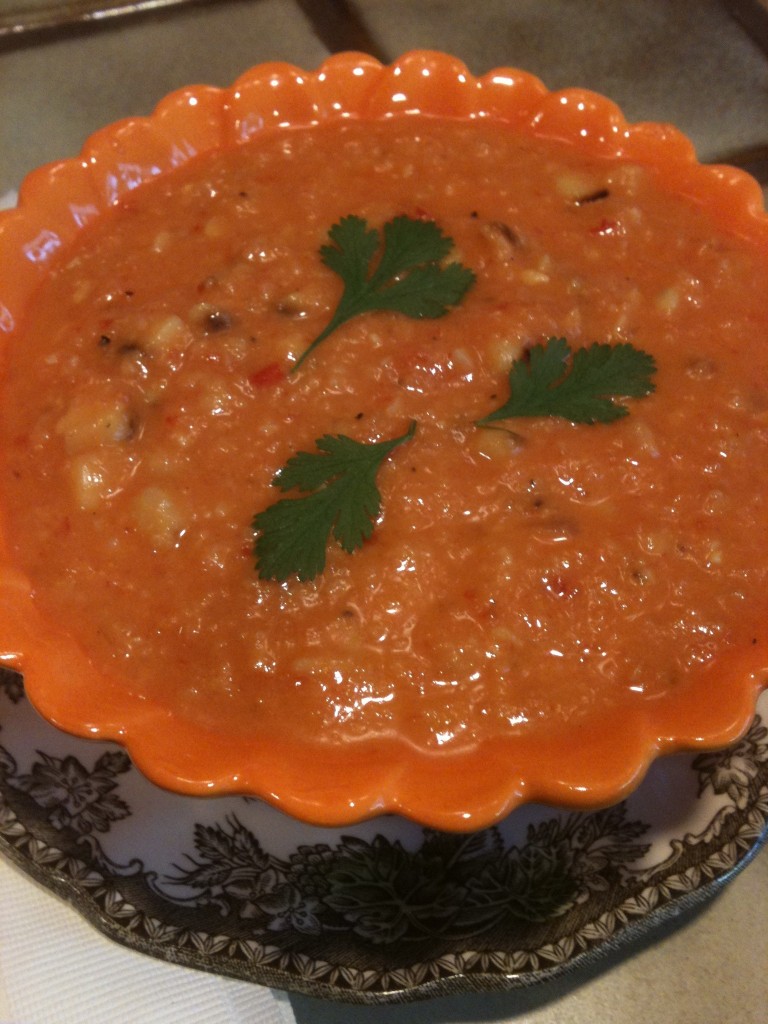 My nephew, Ryan made this soup the other night. It is good! I may prefer it served cold as I had some for breakfast. Awesome Bites, Ryan! Ryan used a full 1/2 cup of Sriracha sauce, I think it would be better a bit less spicy, so I reduced to 1/4 cup.
8 ears fresh sweet corn, husked
2 T Olive Oil
2 red bell peppers, seeded and diced
2 red onions, diced
5 cloves garlic, minced
6 cups chicken stock or vegetable if you prefer
1/4 cup Sriracha, plus more for garnish. (You can double this amount if you want the chowder to be smokin' hot like Ryan's. I prefer to let your guests add more.)
3 sprigs of fresh thyme
2 bay leaves
1 cup heavy cream
Salt and Fresh ground pepper
Smoked paprika, for garnish
torn leaves of fresh cilatro or flat-leaf parsley, for garnish
Roast 4 ears of corn over direct flame over gas burer until the corn kernels begin to blacken, turning every few minutes until all sides have roasted. After the roasted ears have cooled, cut the kernels from the cobs and reserve.
Heat oil in large Dutch oven over medium heat. Add the bell peppers and onions and cook until softened slightly, meanwhile cut the corn kernels from the remaining 4 ears of corn. Add the raw corn kernels and garlic and cook unitl the garlic is aromatic, 2 minutes. Add the stock, Sriracha, thyme, and bay leaves. Bring to a boil, then lower the heat and simmer for 45 minutes. Discard the thyme and bay leaves, then puree the hot liquid with a hand stick blender.
Warm the heavy cream in microwave for 30 seconds, then add to the chowder along with the roasted corn. Cook for 5 minutes until heated through. Do not boil.
Season with Salt and Pepper to taste. Ladle the soup into bowls and garnish.