So very good, a little sweet, a little heat, lip smackin' good! Awesome bites.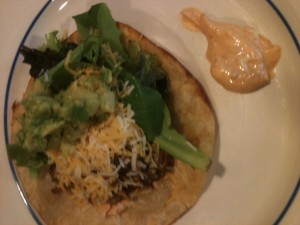 Pulled pork
BBQ Sauce
1 Chipolte Pepper in Adobe Sauce
1/3 cup mayonnaise
Grated Cheddar
Chopped Cabbage Slaw or Lettuce – your choice
Fresh Guacamole
Corn tortillas
Using your stick blender mix Chipolte Pepper and Mayonnaise. Warm the pulled pork and add a little bbq sauce to moisten.
Fry Corn Tortilla Shells
Assemble: Taco shell, smear 2 tsp chipolte mayo, top with warm pulled pork, top with grated cheddar, top with Slaw or lettuce and a dab of guacamole! Ole!
Very, very tasty. Plan on two per person.